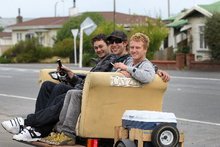 Josh Steeg possibly had the cruisiest Easter Sunday in the Bay.
The Hastings mechanic took a few mates for a spin on his swanky Yamaha Couch through Napier yesterday, impressing all, including local police officers.
"It's an old couch, but the Yamaha motor's still pretty good," Mr Steeg said.
It took just a few months to accessorise his couch with a 2008 Yamaha Jog motor, he said.
While it looked more like something you'd see on the streets of Dunedin's student set, the "shed project" was built with a view to rope in business.
"Who knows, someone might see it as a great opportunity to do some advertising."
With a top speed of 60km/h, it comes complete with a "loud" stereo system, indicators, speedometer and double-crate refreshment trailer.
"Police had a look at us but it was all good. It's only the second time I've had it out for a run. If I had a dollar for every time someone stopped us to take a photo today, I'd be rich."

By Mark Story