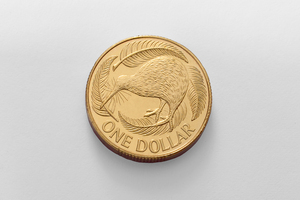 The New Zealand dollar rose to a fresh five-year high against the Australian dollar overnight on expectations the local economy will continue to outperform that of its closest neighbour.
The kiwi touched 89.99 Australian cents last night, and was trading at 89.51 cents at 8am in Wellington, from 89.75 cents at the 5pm market close yesterday. The local currency slipped to 81.96 US cents from 82.20 cents yesterday.
Reports this week are expected to show the contrast between a revival in New Zealand's economy and slower growth in Australia. That continued divergence means traders are pricing in a series of interest rate hikes in New Zealand over the next year and only a minimal chance that Australia's benchmark rate will rise, increasing the lure of the local currency.
"Macro and leveraged buying dragged NZD/AUD to a fresh high overnight," Mike Jones, currency strategist at Bank of New Zealand, said in a note. "A further climb to 90 cents looks to be on the cards for the NZD/AUD.
We expect the cross to remain above 88 cents for all of 2014."
Traders expect the Reserve Bank of Australia to increase its benchmark 2.5 percent interest rate by 7 basis points over the coming year, while New Zealand's Reserve Bank is expected to raise its 2.5 percent rate by 101 basis points in the same period, according to the Overnight Index Swap Rate. Australia will review its key rate next Tuesday, with New Zealand's review the following week on Dec. 11.
In Australia today, Reserve Bank of Australia deputy governor Philip Lowe is scheduled to speak in Sydney at 11:15am on productivity and infrastructure. This is unlikely to provide market moving news for traders, said the BNZ's Jones.
Traders will be eyeing Thursday's report on Australian third-quarter capital spending for an indication on how the mining sector is tracking. Capex spending has slowed over the past year as mining investment waned.
In New Zealand this week, October overseas trade data scheduled for release tomorrow is expected to provide further evidence of the post-drought rebound in dairy production while an ANZ business confidence survey on Thursday should show continued optimism.
The New Zealand dollar weakened to 83.36 yen from 83.57 yen yesterday. The kiwi advanced to 50.74 British pence from 50.49 pence yesterday, and was little changed at 60.64 euro cents from 60.68 cents yesterday. The trade-weighted index slipped to 77.06 from 77.22.