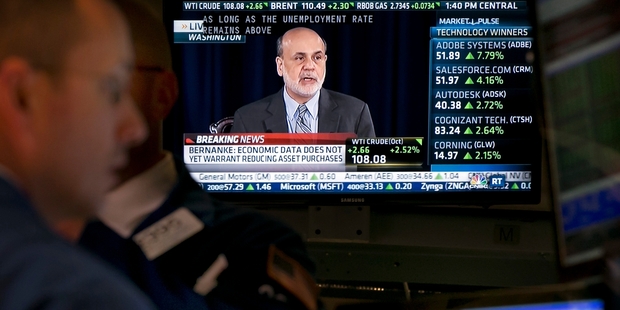 The New Zealand sharemarket rallied by more than 1 per cent yesterday after US Federal Reserve chairman Ben Bernanke said he would maintain the country's stimulus programme.
The move surprised many who had been expecting Bernanke to reduce its US$85 billion per month bond buying programme by US$10 billion to US$20 billion.
In its statement the Fed said that the US economy was growing moderately and that some indicators of the job market had shown improvement. But it noted that rising mortgage rates and government spending cuts were restraining growth.
It planned to keep its key short-term interest rate near zero at least until unemployment falls to 6.5 per cent, down from 7.3 per cent last month.
In its most recent forecast it said unemployment could reach that level as soon as late 2014.
US interest rates have jumped since May, when Bernanke first said the Fed might slow its bond buys later this year.
The Fed said that the rise in interest rates "could slow the pace of improvement in the economy and labour market" if it was sustained.
The Fed also lowered its economic growth forecasts for this year and next year slightly, likely reflecting its concerns about interest rates.
Mark Lister, head of research at Craigs Investment Partners, said very few people had picked the decision. "Instead of taking the foot off the gas a bit they have kept the pedal to the floor."
That saw US stock markets rally to new highs and the New Zealand and Australian markets followed suit. The NZX 50 closed up 49.2 points, or 1.05 per cent, on 4753.03. At the same time the US dollar also weakened sending the kiwi back up to US83.92c as at 5pm yesterday from US82.25c late on Wednesday.
Lister said the stronger kiwi was negative for exporters but good news for consumers as it would keep prices, including the cost of petrol, in check.
The US Federal Reserve move would be watched carefully by the Reserve Bank, Lister predicted.
He said the Reserve Bank may have to consider holding rates for longer as any lift could send the kiwi even higher putting pressure on exporters and the economic recovery.
The NZX 50 benchmark index has broken through all-time highs every day this week.
Grant Williamson, at Hamilton Hindin Greene, said he saw no reason for the upwards trend to be broken at this stage.
"It won't be all plain sailing, but the market remains in a very strong upwards trend."
But he said the major sticking point could be when the Federal Reserve does decide to reduce its stimulus programme at some point down the track. "It will give the market indigestion."
Williamson said the strong market sentiment boded well for today's announcement on Meridian Energy.
- additional reporting agencies