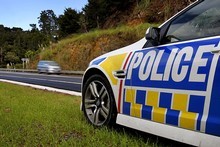 Police are seeking sightings of a Slovakian tourist who was last seen hitch-hiking near Motueka, near Nelson, and should have been gone only for a couple of hours.
Martina Direrova, 23, left the home she was staying at on Motueka Valley Highway, near Ngatamoti, about 2pm on Saturday afternoon.
Constable Owen Thawley, of Motueka police, told the Herald last night Miss Direrova didn't usually hitch-hike because the Slovakians she stayed with had a car.
She had intended to go into town to visit shops and said nothing about staying away any longer, so her friends raised the alarm yesterday.
Mr Thawley said she had been in New Zealand since November and initially spent time in Christchurch.
Inquiries were at an early stage, but if she hadn't contacted police or her friends by this morning the investigation would be upgraded.
Miss Direrova has shoulder length blonde curly hair, is of thin build and about 180cm tall, and was last seen wearing a black T-shirt and white shorts.
Mr Thawley said if anyone knew where she was or had seen her, or given her a ride, they should contact Motueka police on 03 528 1220.
By Andrew Koubaridis @A_Koubaridis

Email

Andrew