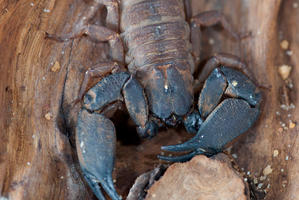 Two brothers have pleaded guilty at the Queenstown District Court to smuggling six live scorpions into New Zealand.
James and Matthew Grant from the Queenstown Lakes District were charged with various breaches under the Biosecurity Act 1993. A third man facing charges did not enter a plea.
Last week, Iszac Walters pleaded guilty in the Christchurch District Court to smuggling the six Black Rock Scorpions (Urodacus manicatus) through Christchurch International Airport and then into Queenstown.
In April the Ministry for Primary Industries (MPI) received information that a man was in possession of a live scorpion and was keeping it in his bedroom.
As a result, his property was searched and a live scorpion was discovered in a tank.
After being made aware of the MPI investigation, the Grant brothers disposed of the scorpions in their possession by boiling them, crushing them and finally burning the scorpions' remains.
MPI Canterbury compliance manager Peter Hyde said the ministry had no concerns that there were any remaining scorpions.
"We're very pleased to see a guilty plea. The result is due to a lot of hard work by Ministry for Primary Industries investigators and legal team.
"We have expert advice that these scorpions could survive in the New Zealand climate, so we view this action as an exceptionally stupid thing to do, especially in a region that is so important to New Zealand's tourism industry.''
The offending was regarded as youthful bravado rather than a serious money-making venture, Mr Hyde said.
"However, as it posed a significant risk to New Zealand, MPI had little choice but to put the case before the courts.''
The ministry took biosecurity very seriously and appreciated the assistance of the public in reporting biosecurity risks, Mr Hyde said.
"If you think you have found a pest, plant disease or animal disease that should not be in New Zealand, please call the exotic pest and disease hotline on 0800 80 99 66.''
Scorpions are restricted organisms under the Biosecurity Act 1993.
The maximum penalty for each of the charges faced by the men is five years in prison or a fine of $100,000.
The Grant brothers will be sentenced on November 18.