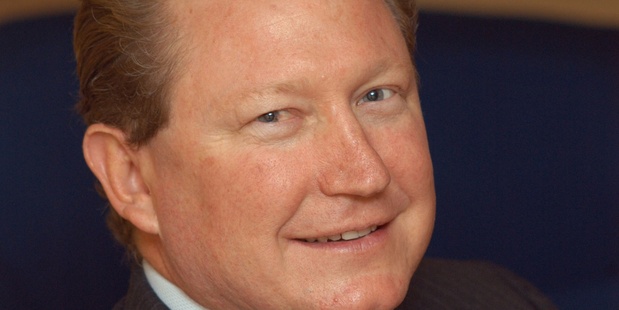 Australian mining magnate and long-time philanthropist Andrew "Twiggy"Forrest has donated A$65 million ($NZ73.9m) to universities in Western Australia in a bid to make his home state a global research centre.
The donation, to be formally announced at a function tonight, is the largest-ever by an Australian.
Forrest and his wife Nicola, who have promised through the American-based billionaires' "Giving Pledge" to donate half their wealth to charity, have already given away A$270 million since 2001.
The latest donation will be spread across WA's five universities, allocating A$50 million to scholarships and postdoctoral fellowships through a new Forrest Foundation.
A further A$15 million will fund a new residential college for researchers at the University of WA, from which Forrest graduated with a degree in economics.
Forrest, the non-executive chairman of Fortescue Metals which has provided him with most of his estimated wealth of A3.6 billion, sees the donation as a long-term investment.
The new places it will fund are aimed mainly at attracting overseas talent to WA. Forrest also hopes his example will encourage more of Australia's richest people to follow suit.
"I don't think we can do enough to encourage education," he told ABC radio.
"It is the ultimate solution to global poverty, though we're just getting in there, doing our bit and we think the University of Western Australia is a fabulous vehicle."
Forrest said he expected the donation to be one of the investments best he would ever make.
"I'd like to see the University of Western Australia and the other four or five universities in Western Australia really excel through having some of the greatest minds in the world attracted to it."
Forrest has also been heavily involved in indigenous employment, training Aborigines for the mining industry and being named an Indigenous Education Foundation ambassador.
The Forrests are among 118 billionaires listed with the Giving Pledge established by Microsoft founder Bill Gates and billionare US investor Warren Buffett.
Forrest told the ABC that he, Nicola and their three children had decided long ago to give much of their wealth to charity.
"The kids really took a view with Nicola and myself that they were happy for us to work in the most productive way possible to make the hard-won capital which we've accumulated put to the very best use we can to advance the human cause," he said.