Multi-billionaire accused of setting one tribal group against another to gain access to iron ore.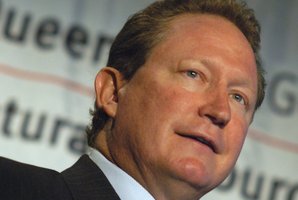 Andrew Forrest grew up on a cattle station in Australia's remote Pilbara, among Aboriginal children, and counts his family's head stockman, Scotty Black, as a mentor.
So when he became a multi-billionaire on the back of the Pilbara's rich iron ore deposits, it seemed only fitting that he should commit himself to improving the lives of the region's indigenous people.
Nearly five years after dispatching its first ore shipment to China, however, Forrest's Fortescue Metals Group (FMG) stands accused of buying off traditional owners and dividing Aboriginal communities to secure cheap land access deals. The company is also alleged to have pressured heritage consultants to play down the significance of sacred sites on mining land.
The controversy relates to the traditional country in far northwestern Australia of the Yindjibarndi people, beneath which lie an estimated three billion tonnes of high-grade iron ore, worth hundreds of billions of dollars. Fortescue, which is developing a massive new mine called Solomon Hub, has been trying for years to strike an agreement with landowners.
While mining companies generally offer royalties of 0.5 per cent of the value of ore extracted, Forrest believes the best way to address indigenous disadvantage is by providing training and employment. Fortescue has offered the Yindjibarndi Aboriginal Corporation (YAC), which represents landholders, income of A$4 million ($5 million) a year, plus jobs, training and housing worth A$7 million annually.
But according to the YAC's chairman, Michael Woodley, locals want a "fair share" of the mineral wealth in order to set up their own enterprises. After talks broke down, a splinter group appeared in 2011: the Wirlumurra Yindjibarndi Aboriginal Corporation (WMYAC), consisting of elders willing to accept FMG's deal.
Two years on, though, negotiations remain mired in legal battles between the two organisations, and the Yindjibarndi are bitterly divided.
Woodley believes the WMYAC has been created and financed by Fortescue. The company admits funding a meeting which voted for the WMYAC to take over representation of landholders, but refuses to comment on reports that it paid A$500 to every WMYAC member who attended.
Forrest was named Australia's richest man in 2008, with a fortune valued at A$9.4 billion. He was, he said, determined to help break the cycle of Aboriginal poverty and welfare dependency, and in 2010 he set himself the goal of securing pledges from big corporations of 50,000 jobs for indigenous people. He also founded Generation One, a not-for-profit organisation aimed at improving education, training and job opportunities.
But Forrest's mining career, which began with an attempt to establish a nickel mine in the 1990s, has been beset by repeated controversy. Sued over the failure of that mine, he was described by the trial judge as "quite untruthful". Last year, he escaped being banned as a company director after the High Court overturned a ruling that he had misled FMG investors.
He has been dogged for years by allegations that he uses "divide and rule" tactics with Aboriginal communities - courting receptive individuals or factions and then persuading them to sign deals favourable to FMG. Minara Resources, to whom he sold his first company, Anaconda Nickel, told the Australian Financial Review magazine in 2006: "There was an awful lot of cash passed around to have groups sign off." Forrest - who is now FMG's non-executive chairman, but was involved in talks with both the YAC and WMYAC - has always denied any impropriety in dealings with landowners.
Woodley claims that Fortescue is "pulling the strings" of the WMYAC - an assertion backed by Kerry Savas, a former lawyer for the Wirlumurra, and, recently, by the group's own chairman, Bruce Woodley, who is Michael Woodley's uncle. One heritage consultant engaged by FMG told the DIA in 2010 that she had been instructed by the company to remove sections of her report - and told that if she failed to do so, outstanding invoices totalling A$70,000 would not be paid. Another consultant, Brad Goodes, told ABC TV's 7.30 Report that Fortescue tried to pressure him into deleting references in his report to the mythical significance to the Jindjibarndi of a creek within the Solomon mine site.
A Fortescue spokeswoman said the firm commissions "hundreds of heritage reports each year. Sometimes we disagree with the content ... and request changes. There is nothing unusual about this."
FMG's chief executive, Nev Power, said told the Herald that the company was committed to developing relationships with indigenous communities, and had already signed seven agreements with landowner groups. It employs 1000 Aboriginal people in the Pilbara. "To those people who say 'just give us the cash and we'll set up our own businesses', I say 'show me the model that's worked and we're happy to come and support that'. There's no evidence in any indigenous community I'm aware of where an enterprise or company has been able to provide that level of employment [provided by the mining industry]."
Allery Sandy, a Yindjibarndi elder and spokeswoman for the WMYAC, denies that Fortescue set up the group. "None of the white men had anything to do with it. We got no respect from the other lot [the YAC]; we were put down and had no voices. So we just gave up and said, 'Enough of the arguing, we want to get on and make a better future for the next generation."'