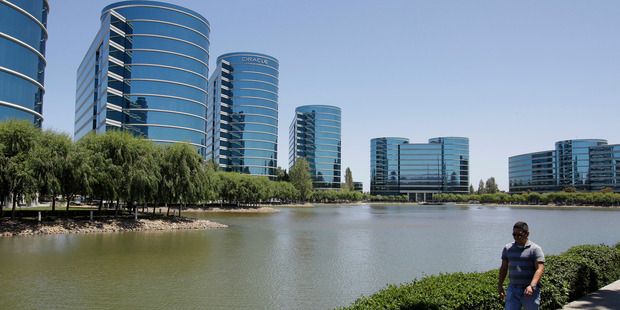 Oracle won a US appeals court bid to revive claims that Google copied its Java programming language to develop the Android operating system.
The shortcuts created by Java to perform basic functions like connecting to the Internet are eligible for copyright protection, the US Court of Appeals for the Federal Circuit in Washington ruled on Friday.
The court reinstated a jury's 2012 finding that Google infringed the copyrights, and remanded the case to let Google argue that it had fair use of the technology.
Oracle, the largest database-software maker, had sought more than $1 billion in damages, claiming Google used Java code without paying because it was in a rush to create Android, which has become the world's most popular smartphone platform. The case split the industry between companies that write interface code and those that rely on it to develop software programs.
Software makers Microsoft, NetApp and EMC filed arguments supporting Oracle. Rackspace Hosting, a group of computer scientists and the Application Developers Alliance sided with Google, saying the specific tools in the case are little more than directions without creativity.
The dispute centred on application programming interfaces, code that lets programmers take advantage of functions already built into an operating system, such as securing data, drawing on-screen graphics or communicating with other devices.
Developers using Java wouldn't have to create a new formula for those features, saving time and money while they focused on other aspects of writing the operating system.
Sun Microsystems, which created Java in the mid-1990s, allowed it to be freely available to developers, though it had a pricing structure for when the code was used for commercial purposes. Oracle agreed to buy Sun in 2009 for $7.4 billion and sued Google a year later.
Oracle sought as much as $6.1 billion in damages from Google before the estimate was thrown out by the judge ahead of trial. It could still seek more than $1 billion.
The Redwood City, California-based company claimed that, by using the Java code, Google preempted Oracle's ability to use Java for its own platform for mobile devices.
Google, based in Mountain View, California, said the code constitutes fundamental programming interfaces used by the entire industry for free. It accused Oracle of trying to backpedal on Sun pledges that Java would remain free.
The Federal Circuit, which specialises in patent law, heard the case because Oracle also had claimed patent infringement. Oracle isn't appealing the jury loss on that issue.
- Bloomberg