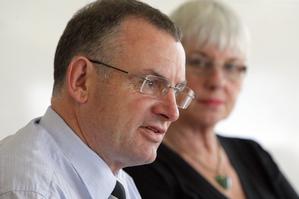 A Labour Party MP is pushing to make Friday a public holiday if the All Whites get an historic World Cup victory.
New Zealand play Paraguay on 2am Friday, with a win putting them through to the World Cup's final 16 for the first time ever.
MP Trevor Mallard today posted on the party's blog, Red Alert, a draft of a Bill that would make Friday a holiday if the All Whites won their match.
"Because New Zealand deserves a public holiday if the All Whites win against Paraguay on Friday morning. This would be a far far better result from pool play than any we have had before. And if Bob Hawke could declare a de facto holiday when Australia won the Americas Cup, then we can do better," the Bill says in its "explanatory note".
It was now up to the Government whether to let the Bill be read in Parliament tomorrow, Mr Mallard said.
"It depends entirely on the Government. The Government can block it very easily ... [but] I'm serious about giving it a go."
But some comments on Labour's blog cautioned that anticipating the outcome of Friday's match by suggesting it be a holiday would "jinx" it.
"They have to win first, don't jinx it Trevor," wrote waterboy.
Mr Mallard said the All Whites would know all of New Zealand was right behind them and this would not affect them.
"Getting through that stage is going to be very close to being the biggest achievement that we've done, at a sporting event on that massive scale," he said.
"It's beyond most of our dreams."
Earlier this week, after watching the All Whites' 1-1 draw against Italy in South Africa, Prime Minister John Key was asked whether the achievement warranted a public holiday.
"Damn fine idea. I want the country to enjoy this. They'll be dancing all over the place," Mr Key told media.
- NZ Herald staff