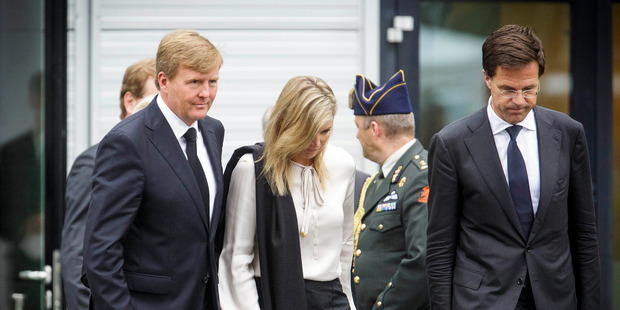 An emotional Dutch King Willem-Alexander says he shares national frustration over the fate of bodies from the downing of flight MH17, a disaster that has left "a deep wound in our society".
"Many people said to us: we just want to say a proper goodbye to our loved ones," the king said after meeting with around 1,000 relatives of the 193 Dutch citizens killed when the plane was shot down over rebel-held Ukraine on Thursday.
"We understand their frustration and their concern, and we share their wish for clarity about what caused this disaster," he said on television, addressing the nation for the first time. "This awful disaster has left a deep wound in our society."
Relatives of the deceased from around the world have become increasingly angry at how the disaster is being handled, with bodies stuck in a train, which is now en route to the Ukrainian city of Kharkiv, before being flown to Amsterdam and lax security at the crash site.
"The whole of the Netherlands feels their anger, the whole of the Netherlands feels their deep grief," said Dutch Prime Minister Mark Rutte, who also met with the bereaved relatives outside the city of Utrecht.
"Some have lost three or four people, sometimes direct family, sometimes a friend, relative, someone from their street," Rutte said, calling on people to come together to support the bereaved.
One bereaved father wrote a savagely ironic open letter to whoever shot down flight MH17, "thanking" them for killing his 17-year-old daughter Elsemiek.
"Thank you very much Mr (Russian President Vladimir) Putin, separatist leaders or the Ukrainian government, for murdering my dear and only child," Hans de Borst said in the letter published by Dutch media.
"I hope that you're proud to have destroyed her young life and that you can look at yourself in the mirror," wrote the bereaved father.
Others said they simply didn't have the energy for anger, including Els, who lost her brother Paul, his wife and their two-year-old daughter.
She said she was trying to ignore reports of pillaging at the crash site. "There's no point in getting angry, mourning already takes enough energy. It's better to light a candle for my brother, my sister-in-law and my niece," she told the AD daily.
Many are now thinking of how to bring those behind the downing to justice, with the Dutch public prosecutor's office saying it had opened a preliminary criminal probe into the crash, which left a total of 298 people dead.
Under Dutch law, the Netherlands can prosecute war crimes suspects, even for alleged crimes committed abroad, if one or more victims is Dutch.
A sea of flowers has been laid at Amsterdam Schiphol airport, where flight MH17 left en route to Kuala Lumpur, while a long queue of people waited to sign a condolence register.
A silent march will be held in Rotterdam on Monday evening in memory of two Asian restaurant owners killed in the crash, with another silent march possible on Wednesday in Amsterdam.
- AFP