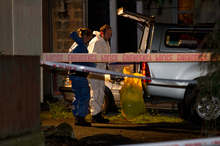 A man has appeared in the Auckland District Court this afternoon charged with the murder of his flatmate.
The 38-year-old, who has name suppression, has been remanded into the care of the Mason Clinic for a period of 14 days until his next court appearance on July 12.
The Mason Clinic is a regional secure unit, located in Point Chevalier, providing forensic psychiatric care.
Mental health professionals will provide 24-hour care for the man and determine his fitness to stand trial.
The man's elderly mother and another middle aged man were in court to support him.
Judge Grant Fraser accepted a report from a forensic court liaison nurse, who also made a presentation in court, that the man was unwell and required 24-hour care from experienced mental health workers.
Dr Jeremy Skipworth, the clinical director of the Mason Clinic, formally supported the report's recommendations, based on the man's current health presentation and medical history.
The judge accepted that while mental health care was available in prison, it was not on the necessary 24-hour basis.
Earlier today, police named the 36-year-old man who was found dead at his Auckland home yesterday.
He was Dean Andrew Clark.
By Nicholas Jones

Email

Nicholas