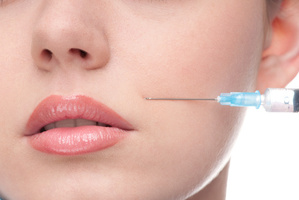 A doctor who left a patient with large growths on her face and too scared to socialise after being injected with an unapproved drug has been fined $8000 and told his work will be scrutinised for two years.
The elderly woman asked for a cheek lift procedure during a consultation with the doctor at a New Zealand beauty clinic in July 2009.
He recommended a "mid-face volumisation", which involved injecting dermal filler into the "age-related hollows" that had formed in the tissue of her cheeks.
Findings released by the Health and Disability Commissioner show the doctor opted to use a filler he had been given as a sample at an overseas conference.
The filler, Novielle Gel Plus, was not approved for use in New Zealand.
He also failed to tell the woman about the risk of her developing growths known as granuloma, the findings said.
The Australian, known as Mrs A, started developing swelling and inflammation on her cheeks about two weeks after receiving the injections.
By October, a large granuloma was about to erupt on her face. She had to see a GP to get it drained, which left a hole by her cheekbone.
At a Health Practitioners Disciplinary Tribunal hearing, the doctor, known only as Dr N, admitted a professional misconduct charge.
The tribunal heard the woman's face was left "significantly scarred" and she had undergone 10 surgical procedures to try to resolve the erupting garnuloma that can leave her with 10-20cm swelling on her cheeks.
"The doctors now caring for her have been unable to provide any certainty as to whether the condition will ever resolve," the tribunal says.
"[The patient] has experienced significant distress, loss of confidence and upset as a result, and now finds it difficult to socialise generally and has also withdrawn from interacting with friends and family.
"Her face is significantly scarred and she continues to experience significant pain and discomfort associated with the granuloma."
Dr N acknowledged he had let his patient down and significantly failed in communications with her after the complications arose.
When the doctor realised there were complications from using the product, the obvious answer was to consult more broadly and to refer her for specialised assistance, the tribunal said.
Instead, Dr N took it upon himself to make his own assessment of what had caused the adverse consequences and to make his own prescriptions for remedy, which failed to work.
He should've referred her to a plastic surgeon immediately, the tribunal ruled.
In a newly released decision, the tribunal concluded the doctor be granted name suppression, that he be censured, fined $8000 and placed under supervision for two years.
He was also ordered to attend monthly consultations with a psychiatrist approved by the Medical Council of New Zealand for a period of three years at his own expense, and to pay $9400 in costs.