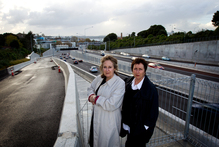 Residents campaigning to reopen the Wellington St motorway ramp from central Auckland have been told its retention was a condition of approval for the new Victoria Park tunnel.
Former Auckland City Council member Graeme Easte has told them he believes the Transport Agency will need to obtain a change to the motorway's land designation if it wants to keep the ramp closed to general traffic.
Mr Easte, one of a seven-member hearings panel which, in 2006, approved a designation application by the former Transit NZ, said: "We were told that the Wellington St on-ramp would be retained in modified form.
"As local councillor, I was well aware of resident concerns about existing traffic loads on Curran St and would not have approved closure of the Wellington St on-ramp if it had been proposed."
The Transport Agency has angered groups, including the Herne Bay Residents' Association and the Ponsonby Business Association, which are concerned about extra traffic clogging their streets, by not reopening the ramp after completing the $406 million tunnel project.
They have support from the Automobile Association, Auckland Council's transport committee and the Waitemata Local Board in calling for the ramp to be reopened.
Agency regional director Stephen Town said the organisation would comply with "all relevant legislative processes" once a decision was made about the ramp's future.
By Mathew Dearnaley

Email

Mathew