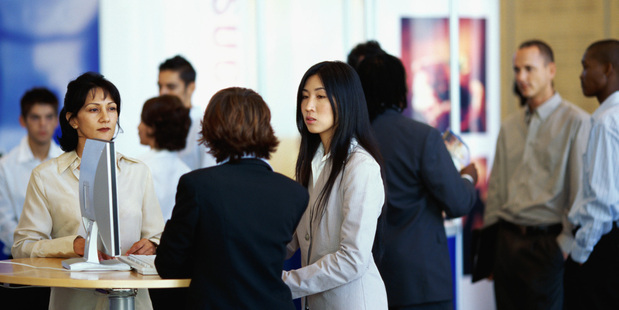 One of the most interesting ways to promote and market many businesses is through trade shows.
When approached properly, trade shows can be incredibly profitable and a great way to create large amounts of new sales in a very short period of time.
To get some helpful ideas on how to get great results from trade show marketing I spoke with Craig Joynt, Managing Director of Exhibit Group.
Exhibit Group have found that successful trade show exhibiting is both an art and a science and they've been helping their clients to do it well for close to 30 years.
Craig explained that there are three key areas to look at when marketing with trade shows.
1: What you do 'before' a trade show
2: What you do 'during' a trade show
3: What you do 'after' a trade show.
Each of these areas is critical to master if you want to get the best value from any trade show.
I asked Craig why trade shows are worth considering as a marketing strategy.
He explained that in a normal sales situation only four percent of all sales are closed after the first contact. And eighty percent of sales are made after the eighth sales call or contact.
The statistics for closing a trade show lead are far more promising.
Surveys done by the Centre for Exhibition Industry Research found that it usually takes one sales call on average to close the business to a trade show lead.
Those are much better odds!
Trade show leads are valuable for other reasons as well.
Prospects from trade shows have shown initiative by investing time and money into attending the trade show to find better purchasing information. They walked into your exhibit by choice, interested in what you have to offer. Trade show prospects are often ready to buy now. You just need to offer what they want in terms they understand.
I asked Craig what was a common mistake he saw made at trade shows.
And he told me that 'poor or slow follow-up' was a real problem for a lot of businesses.
Craig shared an interesting example on this.
In the last 18 months he visited a number of trade shows as a potential customer for his own business. He identified two different suppliers that he was keen to spend over $100,000 with on buying the products and services that they offered. In both cases he gave each supplier all his details and told them he was keen. 18 months later he had not heard back from either supplier.
That is a lost $100,000 sale for each business and a huge waste of the money they invested in these trade shows.
Craig explained that trade show leads cost a significant amount of money to get.
And this money is wasted if you don't follow them up.
To work out what each lead costs, add up all your trade show costs including the wages of all your staff who were at the show. Allow for the costs to follow the leads up and then divide by the number of leads you have. This cost can be anywhere between $50 and $500 per lead.
A helpful rule of thumb is to spend at least as much money on following up trade show leads as you spend on the trade show itself.
Trade shows can work surprisingly well provided you follow some simple guidelines. And they are definitely worth considering as a marketing strategy for many businesses.
'To succeed in sales, simply talk to lots of people every day. And here's what's exciting there are lots of people!' - Jim Rohn
Action Exercise:
Exhibit Group has created a series of free booklets that cover in detail what to do before, during and after a trade show. If you are considering using trade shows to market your business contact Exhibit Group and request a free copy of these helpful booklets.
These booklets have some excellent ideas and are well worth reading.
Graham McGregor is a marketing consultant and the creator of the 396 page 'Unfair Business Advantage Report.' www.theunfairbusinessadvantage.com (This is free and has now been read by business owners from 27 countries.) You can email him at the link above.