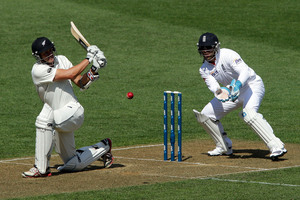 Something dawned on me when I was busy picking apart Peter Fulton's technique midway through Friday's play. All of sudden I thought, "hang on, he's on 85."
It really is a case of how many, not how. That is a statement that runs true in so many sports.
For a golfer, it's about the score when the ball drops into the cup on hole 18. For a tennis player, it's about who wins set, and ultimately match, point. For a rugby team, it's about who has the most points at the end of 80 minutes.
For Peter Fulton, it has been all about the score to his name when he, under the rules of the game, must leave the playing field. Those numbers have been excellent.
There's no doubt Fulton looks a bit ungainly at test level. He is very much a grafter who grinds out his runs - but what's wrong with that? First of all, he's getting those runs and there are enough stroke players further down the order to accelerate the scoring.
Fulton gets his feet crossed up, plays around his front pad and defends a little wide for me to feel comfortable as I watch him play but I feel chuffed he's taken this final opportunity. He's taken it because age and experience have surely given him mental strength.
Few players in any sport are technically perfect and many who are fail to make any real impact at the top level - because pressure not only erodes technique but great technique can be undone by poor decision-making under duress.
Cricket is not a style contest. There are no extra runs for the degree of difficulty of a shot or for artistic merit. It is a contest between bat and ball; the bowler is trying to get you out and you have to resist, stay in and score runs.
Steve Waugh understood that, so did Andrew Jones and, finally, after 10 years of under-performance at provincial level, it dawned on me too.
Sheer bloody determination is possibly the most underrated asset in sport. It is the skill that makes the gifted great and the less than gifted successful. I saw a ton of that determination in Fulton's 136 and if there is anything that is going to continue the improvement of this New Zealand cricket team, it will surely be more determination than they had shown at the national level before this summer.
No doubt Fulton has booked his seat on the plane to England and, accepting the fact he is no youngster, if he grinds out more runs with the consistency he's shown in this series for just a couple more seasons, he will have done a fine job for his country.
What would Billy Beane of the Oakland As in the movie Moneyball say of Peter Fulton? He'd say: "He gets on base."