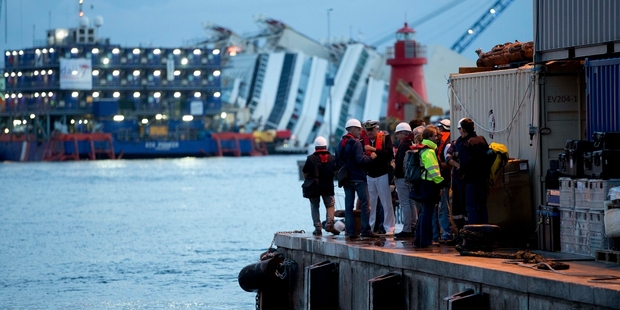 A toxic soup of rotting food, chemicals and other debris was expected to spew out of the Costa Concordia when salvagers try to haul the cruise ship upright overnight.
There were fears that the operation could pollute the pristine waters of Giglio, the Italian island where the liner capsized last year. The Costa Concordia was beginning a week-long cruise in the Mediterranean when it capsized with its larders and freezers packed with vast quantities of fresh food, dried goods, drinks and supplies for its 4200 passengers and crew.
In addition to the rotting food, there are oils, lubricants and other chemicals inside the vessel, including 300 litres of paint and 45 litres of insecticide, as well as thousands of items such as mattresses, clothing, shoes, crockery and sun loungers.
About 29,000 cubic metres of contaminated water was expected to gush out of the vessel as it is hauled upright. The engine oil and diesel have been removed - 2400 tonnes was extracted from fuel tanks by a Dutch salvage firm.
The bodies of a middle-aged Italian woman and an Indian waiter were never recovered and may also be inside the Concordia. Remotely operated submarines will search for human remains. Elio Vincenzi, 64, a maths teacher from Sicily whose wife, Maria Grazia Trecarichi, died in the disaster, said: "I don't feel hate or rancour. I just want to find my wife's body, to bury her at home in Sicily and to know what happened in those last minutes."
The ship was lying at an acute angle and it was considered not possible to try to extract the foodstuffs and other materials, as divers, engineers and other experts worked to prepare the salvage operation.
At 116,340 tonnes, the Concordia is twice as big as the Titanic.
Nick Sloane, the South African engineer in charge of the salvage operation, said the first four to five hours would be crucial. "There are still a lot of unknown factors." The nightmare scenario was that the 290m-long, rust-streaked cruise liner broke up and sank.
The ship's captain, Francesco Schettino, is on trial in the city of Grosseto, accused of multiple counts of manslaughter and abandoning ship. He has denied the charges, claiming the rocks the ship hit as it passed the island in a "salute" were not marked on his charts.