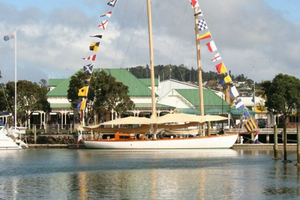 One of the seven passengers on a vintage wooden yacht missing in heavy seas between New Zealand and Australia had a deep-rooted fear of drowning at sea, which he laid bare in an eerie premonition written a year ago.
British man Matthew Wootton, 35, was on board the classic 21 metre American racing schooner, Nina sailing from Opua in the Bay of Islands to Newcastle.
The 84-year-old vessel, owned by American David Dyche, 58, was also carrying his 60-year-old wife, Rosemary, their son David, 17, well-known maritime technology expert Evi Nemeth, 73, an 18-year-old American woman called Daniella and 28-year-old American man named Kyle were also on board.
They have not been heard from since June 4.
After concerns were raised by family and friends, the Rescue Coordination Centre New Zealand (RCCNZ) instigated a communications search on June 14.
An Air Force Orion is searching near Norfolk Island today, scanning nearly 6000 square nautical miles.
Wootton, a Green party activist from Lancaster in England, had been travelling for the last three-and-a-half years - mostly in the Americas - and Australia was to be his last stop before heading home, his family told the Guardian newspaper.
His sister Lara told the Daily Mail her brother was "very environmentally aware" and travelled by boat or public transport when possible.
He wrote extensively about his travels, including a creative writing entry from last July when he was travelling the Pacific Ocean on a freighter ship.
Wootton talked about his "worst nightmare" of "being overwhelmed by a tsunami".
"But I can't help thinking I'm also just simply scared of death by drowning," he wrote.
"Why then do I travel by freighter ship, why then do I want to sail across the ocean in a tiny sail boat?"
He said "the sea still scares me", adding: "As well it should. It is the only sensible reaction to be cautious of such a beast."
The ocean could "swallow this whole enormous ship" and "not care", he said.
"Two miles deep in a matter of hours," he wrote in the piece, entitled 'The Ocean'.
"The first mate assures me, helpfully, that yes, that could happen. Sometimes, they break in two, he says. And sink in minutes."
Wootton also raised fears over his body never being recovered if he died at sea.
"If you die in a car crash at least there's a body," he wrote.
"There's something for your family to cry over, to mourn, there's a proof that you existed. Die in the ocean and they'll probably never find your body."
Wootton's mother Susan told the Guardian that the family hoped the search for her son would continue.
She criticised the RCCNZ, which is running the search effort with help from the Australian Maritime Safety Authority.
"We are on the internet every minute of the day trying to find some news," she said.
"We just want the New Zealand coastguard to keep on looking for the boat. They've only searched one third of the area they should be searching."
The search and rescue operation has already focussed on the Northland coast and surrounding outer islands.
The Air Force plane left before dawn today and is focussing its search south of Norfolk Island, RCCNZ says.
"Obviously time is passing and concerns are increasing, but (searchers) remain optimistic," spokeswoman Rosemary Neilson said.
There was no deadline set for how long the search will continue, she said.