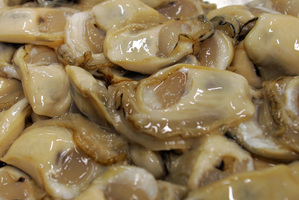 A new DNA test has been developed to detect low levels of the Bluff oyster-killer bonamia.
National Institute of Water and Atmospheric Research (Niwa) and molecular diagnostic company dnature have developed a DNA test that is more sensitive, and can detect lower levels of infection, than using a microscope.
Bonamia, a microscopic disease of oysters, is not harmful to humans or animals, but kills large numbers of oysters.
It's a major recurrent problem in the fishery, says Niwa scientist Keith Michael.
"The great advantage of the new method is that it can detect small amounts of bonamia in an oyster," he said.
"This means we can detect the disease in a bed early before the infection becomes fatal and the oysters are lost to the fishery."
Mr Michael says this new test takes less time, is more cost-effective and can detect a number of different species of bonamia.
"We can test 96 samples at one time instead of examining one at a time under the microscope.
"This new research will help the Bluff Oyster Management Company to develop new ways of minimising the losses of oysters and reducing the spread of bonamia."
The total Bluff oyster population is continuing to grow steadily since bonamia severely reduced the population to 408 million oysters in 2005.
The population has steadily rebuilt from 720 in 2009 to 918 million in 2012.
Now there is a wealth of information from research and extensive hands-on knowledge from skippers, oyster population models can reliably predict trends, with research to estimate the total population size carried out every three years.
Consequently, with the growth in numbers, oyster harvests have also grown from the 2005 low of 7.5 million to a harvest of 12 million last year. Harvesting is expected to be higher again this year, closer to the 15 million limit set by the Ministry for Primary Industries).
The oyster season runs from March 1 and closes on August 31.
- APNZ