Tourism operators in port cities urged to cater for diverse expectations of sector's fastest growing market.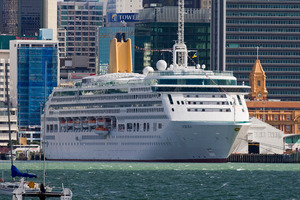 A cruise industry consultant says New Zealand risks missing out on most of the boom in the sector by not giving passengers what they want.
Wendy London, of Cruise Strategy, said tourist operators were not tailoring their offerings to different size ships and different passenger mixes.
The cruise industry is the fastest growing in the tourist market with 209,000 passengers making 756 port visits last summer, up from 17,000 less than 10 years ago. Next summer up to 225,000 are expected.
"In our naivete we lump the cruise industry all together when in fact the industry is highly segmented and that segmentation goes to the cruise lines, the passengers and the ships they travel on."
Some first-time cruisers want to be "led by the nose"; experienced passengers from more upscale ships with few resort options want to come ashore and explore, said London, who is studying for a PhD on the rise and fall of cruise destinations.
"As someone who is totally immersed in cruise, professionally and academically, I find New Zealand's lack of aggressive action in developing a cruise culture baffling. After all, cruise is, and has been for many years, the fastest growing part of our tourism sector."
In destinations such as the Pacific Islands, Caribbean and Southeast Asia it is common for passengers to be greeted by stalls and a carnival atmosphere on or near the wharf.
"Yet in many ports in New Zealand, passengers generally arrive to no special welcome, experience little of the real New Zealand and visit only a tiny proportion of our vibrant and authentic businesses. There is a lack of understanding about cruise and cruise passengers among our business sector, and a lack of co-ordination," she said.
"We've got to have much more consistent quality in our offerings and people want to get behind the story. Don't just take them to an art gallery, take them to meet the artist."
Most attractions have been set up for land-based visitors who visit steadily in smaller numbers.
When a cruise ship comes in there may be 300 people in an hour and some businesses struggled with that.
London said it can take businesses two to three years to gear up for the cruise trade.
But a spokesman for Carnival Cruises, David Jones, said New Zealand ports have got it right.
"I think New Zealand stands out in the typical passengers' minds because of what communities do."
A pipe band plays at Port Chalmers, vintage cars greet passengers in Napier and in Picton bouquets are handed out to departing passengers.
Auckland is a "zinger" because of where the ships dock.
"Auckland doesn't have to do much except be Auckland because the harbour is magnificent, where ships arrive is absolutely special and you've got those great places to go which are just a ferry ride away."
More keen to go cruising
Carnival Australia says this region is the fastest growing cruise market in the world.
The company yesterday said one of its P&O vessels, the Pacific Pearl, will have Auckland as its home port for the next three years.
Corporate communications manager at Carnival Australia, David Jones, said New Zealanders and Australians were now the second keenest cruisers in the world.
"Based on our figures market penetration reached 3 per cent and puts this market just behind the North American market. It gives you an indication of just how New Zealand and Australia have weathered the global financial crisis better than other countries," he said.