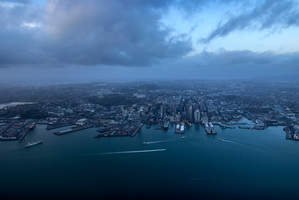 Auckland needs a single plan for its three harbours to go with a single plan for the city, says the Committee for Auckland lobby group.
The Auckland Council is proposing a marine spatial plan for the Waitemata and Hauraki Gulf, but is not addressing the environments and opportunities in the Kaipara and Manukau harbours, says committee executive director Heather Shotter.
A report, Three Waters: Auckland as a Maritime City, urges the council to develop a marine spatial plan for all three harbours and a simplified governance authority.
"Ignoring the social and economic potential of these harbours ... is like writing an Auckland Plan which excludes Waitakere," Ms Shotter said.
The Waitemata Harbour and Hauraki Gulf are governed by the Hauraki Gulf Forum, but there is no comparable body for the Manukau and Kaipara.
The report found that too many agencies have responsibility for the commercial and recreational use of the city's harbours and urges the council to take a stronger position with central Government to review the current governance arrangements.
The committee has received backing from Auckland councillor Chris Fletcher - a member of the Hauraki Gulf Forum - who said the new amalgamated Auckland had missed the opportunity to have a single marine spatial plan to highlight the economic and environmental value of its harbours.
Mayor Len Brown declined to comment.
The report also recommended the swift completion of the second stage of a study into development options at Ports of Auckland.
The second stage of the study is on hold while the ports company consults Aucklanders on its latest plans to reclaim more of the Waitemata Harbour for port operations.
Consultation is due to begin on May 10.