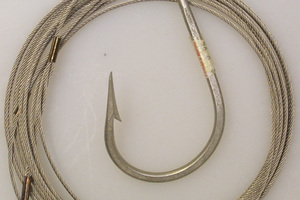 A fisherman rescued from his sinking boat near Greymouth on Friday had survived a similar incident on a vessel that caught fire three years ago.
Ross Coppell, who was plucked to safety by a mate anchored nearby, had also skippered another Greymouth fishing boat which caught fire 41km offshore in 2010.
On that occasion he and his crew sought refuge at sea in a fish bin after being forced to abandon ship before it sank.
Yesterday Mr Coppell was emotional as he told of his fear when the ill-fated Honey Dew got into trouble in choppy seas north of Haast on Friday morning.
Mr Coppell, his son Jordan, and fellow crewmen Joel Waller and James Perring had to be saved from 500m offshore of Ships Creek.
Nathan Sulman and his two-man crew on another boat were quick to respond to the distress flare about sunrise on Friday.
"It could have ended so much different if I wasn't anchored nearby," Mr Sulman said.
"There was some smoke but the boat was taking in water and we pulled up alongside, backed in taking the crew off one at a time. Ross [Coppell] is a mate of mine and I was just so pleased to be nearby.
"He has helped so many fishermen in difficulties himself. He came to my rescue once when I got a fishing net wrapped around the propeller, just off Hokitika."
The Greymouth owner of the 22m vessel, Kelvin Fawcett, said his insurance company had advised him that his crew was not to comment to the media about the sinking.
Maritime New Zealand will begin preliminary inquiries into the incident.
An emotional Mr Coppell was thankful to be rescued, saying he and the crew had feared for their safety.
It is thought a fire on board knocked out the trawler's bilge pumps and radio.
"I didn't think anyone was around. I thought we're on our own, and when I saw the Grace Mary it was just a feeling I can't describe," Mr Coppell said.
- APNZ