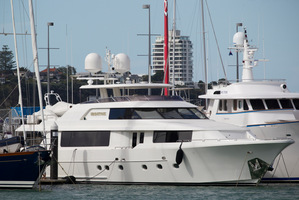 Philanthropist Sir Owen Glenn's superyacht Ubiquitous has taken up residence at the Viaduct Basin.
The yacht arrived from Florida this week on a transport ship. Reports last year indicated the 34m yacht would be in New Zealand to play a role in Glenn's charity fundraising projects. It has arrived less than a fortnight after Glenn was reportedly forced to freeze grants to projects aimed at ending family violence, due to a dispute within his family trust.
Glenn has previously donated to the North Shore's national aquatics centre and the University of Auckland. Last year he pledged $80 million of his fortune to fighting child abuse in New Zealand.
Ubiquitous was known for parties featuring celebrities, businessmen and glamorous women.
Meanwhile, five superyachts will take to the Waitemata today for the final day of the Millennium Cup.
Janice of Wyoming, Ohana, Silvertip, Sea Toy and Zefiro will compete for honours.