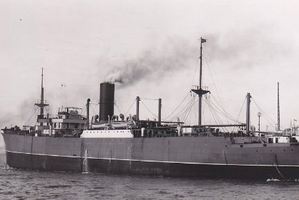 The wreckage of New Zealand cargo ship the MV Limerick has been found off the New South Wales coast almost 70 years after it was torpedoed by Japanese submarines during World War II.
The New Zealand-owned ship was part of a coastal convoy from Sydney to Brisbane when it was struck by a torpedo at 1am on Anzac Day in 1943.
Of the 72 crew on board when it sank, two went down with the ship, a New Zealand engineer and an Australian officer.
The remaining 70 spent 10 hours in lifeboats or on rafts until they were rescued by the minesweeper HMAS Colac.
A fisherman at Ballina, about 100km south of the Gold Coast, identified the shipwreck in 100m of water about 18km off the coast last year, the ABC reports.
University of Sydney geologist Associate Professor Tom Hubble led the team that took an hour of its research time to map the wreck using 3D imaging.
"It was amazing to see the sea floor images come to life as the sea floor mapping technology transformed the data into a 3D graphic of the ship wreck," Dr Hubble said.
"Finding the wreck of MV Limerick is in the national interest. We were already in the area, we had the necessary technology and technical expertise on board, and it didn't take long to create a 3D image of the wreck."
The Limerick was a 140m merchant ship built in 1925 in the United Kingdom and at the time of its sinking belonged to the Union Steam Ship Company in New Zealand.
- APNZ