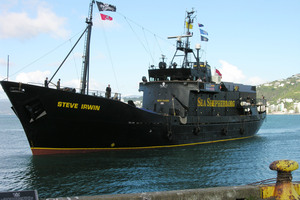 Three Sea Shepherd ships have left New Zealand for the Southern Ocean ready to do battle in the activist group's biggest Antarctic summer campaign against Japanese whaling.
A fourth vessel, named for benefactor Sam Simon, co-creator of The Simpsons, will leave Hobart today, Sea Shepherd's Australian director, Jeff Hansen, says.
Mr Hansen, who with former Australian Greens leader Bob Brown is replacing Paul Watson to direct the ninth annual campaign, said the Steve Irwin, Brigitte Bardot and Bob Barker were steaming towards the Antarctic whale sanctuary and should arrive on January 21 or 22.
The Sam Simon will join them there ahead of the whaling fleet, whose departure from Japan was delayed because of problems with its factory ship..
"We're planning to be there before they get there so no whales get killed this season," Mr Hansen said.
He would not say what tactics Sea Shepherd planned to use against the Japanese whaling fleet.
Mr Watson, the Canadian-born founder of Sea Shepherd, is on the Steve Irwin but will not captain the vessel. He announced on Tuesday he was resigning from key positions in the organisation because of legal action against him.
A United States court injunction in December, naming Mr Watson, ordered the protesters to stay at least 450m from the Japanese fleet.
He is also the subject of two Interpol "red notices" seeking to extradite him to Costa Rica and Japan to face trial for his actions in previous marine conservation campaigns.
He avoided arrest in New Zealand on Saturday when customs did standard checks on the Steve Irwin in Timaru by switching to the Brigitte Bardot after it had cleared customs in Wellington.
Mr Hansen said he and Dr Brown would co-ordinate the Antarctic campaign - which has four ships, a helicopter, aerial drones and more than 100 crew.
- AAP