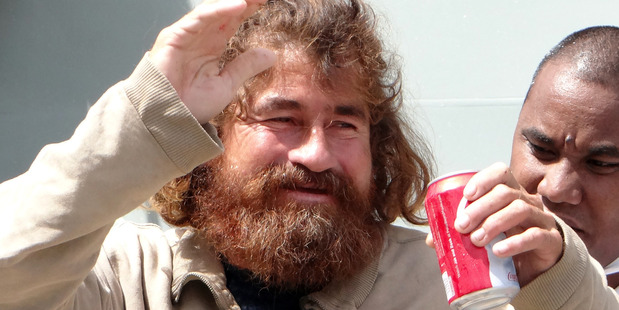 A castaway who says he survived 13 months adrift in the Pacific said yesterday he thought about suicide but was sustained by dreams of eating his favourite food - tortillas - and reuniting with his family.
Fisherman Jose Salvador Alvarenga said his strong faith helped as he drifted from Mexico to the Marshall Islands, and described being forced to dump the body of his teenage companion overboard when he starved to death.
"I didn't want to die of starvation," he said through a Spanish interpreter at Majuro Hospital, where he is recuperating after being found disoriented last week at a coral atoll.
"There were times I would think about killing myself. But I was scared to do it," he said, raising an arm, pointing to heaven and declaring: "God! Faith!"
Alvarenga said he would dream of eating all his favourite foods. "But then I woke up and all I see is the sun, sky and the sea. My dream for over a year is to eat a tortilla, chicken and so many other types of food.
"I would imagine and dream a lot about my family - my mother and my father." Alvarenga said he was not married but has a daughter, Fatima.
"Thank God he is alive. We are overjoyed ... I just want him here with us," his mother Maria Julia Alvarenga told CNN in his homeland El Salvador.
Alvarenga said he set out on a shark fishing expedition in late December 2012 with a teenager, when they became lost in their 7m fibreglass boat.
The boy, who he says was aged between 15 and 18, died a few months into their voyage, unable to survive on a diet of raw bird flesh, turtle blood and his own urine. "He couldn't keep the raw food down and he kept vomiting. I tried to get him to hold his nose and eat but he kept vomiting."Starting out the trip with fishing gear, he caught fish. "I was [also] able to reach over the side of the boat and grab [sea turtles]."
He said: "The hardest thing I had to do to survive was to drink my own urine." This was during a period when "for three months it didn't rain". When it did, he used the hull to store water.
In Costa Azul, a fishing hamlet near Tonala, fishing boat owner Villermino Rodriguez Solis said Alvarenga and a companion had gone missing on November 18, 2012. "Here, his colleagues went out in boats to look for them. They spent four days looking for them." Residents of Costa Azul said they didn't know Alvarenga's real name. He had shown up looking for work years before, but worked from fishing camps along the coast.
The stockily built Alvarenga looked in remarkably good shape when he arrived in the Marshalls capital, Majuro, aboard a police patrol boat, five days after landing on Ebon Atoll. He did not appear to have chapped lips, blistered skin or other signs of severe exposure.
"He looked better than one would expect," US ambassador Thomas Armbruster said. "It's hard for me to imagine someone surviving 13 months at sea. But it's also hard to imagine how someone might arrive on Ebon out of the blue. Certainly this guy has had an ordeal, and has been at sea for some time."
Gee Bing, the acting secretary of foreign affairs for the Marshalls, said he was sceptical of Alvarenga's account. "I'm not sure if I believe his story ... he was not really thin compared to other survivors in the past." Bing said he had no identification with him. However, extraordinary feats of survival are not uncommon in the Pacific. Three Mexicans washed up in the Marshalls in 2006 after nine months adrift.
Erik van Sebille, an oceanographer at the University of New South Wales, said there was a good chance a boat drifting off Mexico's west coast would eventually be carried by currents to the Marshall Islands. He said it would typically take 18 months to two years but 13 months was possible.
- AFP
Jose Salvador Alvarenga
Age: 37.
Background: Originally from El Salvador but had lived in Mexico for 15 years. Fishes for a man he knows as Willie. Went fishing with a teenager called Ezekiel or Xiguel, but a storm blew them off course. The teen died after 1-4 months.
Journey: From Costa Azul, Mexico, to Ebon Atoll in the Marshall Islands.
Distance: 10,460km in a 7m fibreglass boat.
Condition: Complained of joint pain and had a limp but was able to walk. He had long hair and a beard, and rather than appearing emaciated he looked puffy in places, including around his ankles. In reasonable health.
- AP