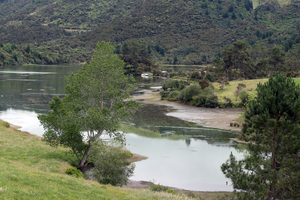 A coroner wants a full review of maritime law, including harsher penalties for boaties, after another preventable boating death.
Andrew Wroe, a 36-year-old Rotorua truck driver, was killed on January 2 last year at Lake Ohakuri, southwest of Rotorua.
Mr Wroe was being towed on a sea biscuit behind a speed boat in a race against another boat, both of which were skippered by his friends. As the boats approached a buoy to turn, the drivers realised they were turning in opposite directions and stopped.
However, a pendulum effect meant Mr Wroe's biscuit continued in an arc and collided with the other boat. He suffered multiple injuries, including numerous fractured ribs and a ruptured spleen, and died almost instantly. Another person on the biscuit suffered a blow to the head and bruising.
Both drivers, Tony Wayne Sargison of Rotorua, and James Trevor Worsnop of Taupo, were convicted in Rotorua District Court of operating a boat in a manner that caused danger and were each fined $3000.
In his written findings, coroner Wallace Bain said the boats were both travelling in excess of the 5 knot speed limit that applied within 30 metres of a buoy and within 30 metres of another vessel. In addition, one of the boats did not have a spotter.
Detective Sergeant John Wilson, who heads Rotorua Search and Rescue, told the Court Mr Wroe's death was "an unfortunate accident but still preventable". The safety message did not seem to be "getting out there" as these types of incidents happened regularly throughout the country, he said.
The coroner noted there had been two other significant boating accidents in the region with the deaths of Bishop Thompson on Lake Okareka in January 2011 and Genevieve Lewis on Lake Taupo in January 2009, both of which were preventable and avoidable.
"It was noted that this Court has called for a review of Maritime Laws and the time was fast coming where more serious charges such as manslaughter could be faced by boaties in flagrant breach of regulations."
Dr Bain repeated his calls for reform, concluding his recommendations from the Genevieve Lewis and Bishop Thompson inquests should be adopted.
He said he found it hard to understand why the law hadn't been reviewed so that firmer action could be taken against boaties in breach of regulations.
"The Court simply asks the question in this maritime nation of two islands and numerous lakes, why recreational safety is regarded at a lower level."
As well as a full review of maritime law, Dr Bain recommended the Maritime Transport Act should incorporate a graduated level of offences, similar to the land transport legislation. He also recommended more education be given to boaties and the general public on maritime safety and where it applies.
For more articles from this region, go to Rotorua Daily Post