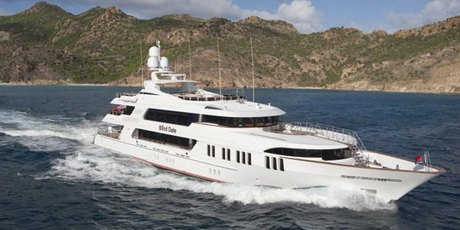 An explosion on a multimillion-dollar superyacht on which a New Zealander is believed to be aboard is being treated as a possible hoax by US authorities.
There were reportedly 21 people on board the luxury yacht Blind Date, initially thought to have sunk about 27km off the New Jersey coast this morning.
Coastguard Lieutenant Joe Klinker told APNZ a distress call was received at about 4.20pm (8.20am NZT) reporting several people had been injured in a blast and the yacht was taking on water.
A major search operation was immediately launched, with vessels and aircraft dispatched from the New York and New Jersey Police and Coast Guard.
However, four hours after the distress call was received, no debris had been found.
"Nothing's been located, which is uncommon,'' Mr Klinker said.
"I can't say (it is a hoax) but it's certainly on the list of possibilities.''
The search was continuing in case it was a genuine incident.
Six helicopters and several fire trucks and other emergency vehicles were dispatched and waited for victims to arrive, but so far they had not treated anyone, NJ.com reported.
"At this time (the report of an explosion) is unfounded. They're still treating it as if it's real, but they haven't found anything,'' the website reported emergency medical technician Max Ross as saying.
New Zealand engineer Matthew Edwards was listed as among the crew aboard the US$40 million vessel.
Jamie Lowe was the former captain of the 50m motor yacht in the Caribbean and Mediterranean until last July when he settled in New Zealand, according to his LinkedIn profile.
The vessel was sold in June last year and Mr Lowe carried out the professional training of the crew.
- APNZ