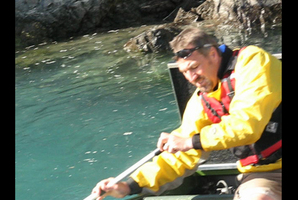 A man has described the agony of being unable to save his brother after a fun jetboating expedition turned into a living "nightmare".
Dave Stirling, 46, joined his brother Leslie, 44, in his beloved jetboat out on Canterbury's Waimakariri River on Sunday afternoon when a freak accident trapped Leslie Stirling underneath the boat.
The jetboat - which Leslie Stirling was keen to show off after the motor was recently rebuilt - initially became stuck in a narrow section of the river.
"We tried to push it out and it was getting dark," a sombre Dave Stirling told the Herald.
"Les took off in the boat and managed to get into deep enough water. I just heard 'bang, bang, bang' and I thought he had grounded the boat, but it had flipped and landed on top of him."
Dave Stirling rushed to the boat and struggled for five to 10 minutes to free his brother and drag him out of the water.
"I got him out ... and gave him CPR, but he had a large gash on his head. I think he had hit his head on a rock."
Unable to do anything more himself, he trekked about 2km in the dark across the waterways and rocks to get to a van the pair had travelled in. He then smashed the van window to get in and use a phone to call police.
Emergency services were called about 7.55pm, but after St John ambulance paramedics arrived, Leslie Stirling was pronounced dead at the scene.
"It's a nightmare, it really is," Dave Stirling said. "It just reminds you how short life can be."
Dave Stirling had only recently moved back to Christchurch for work from Whangarei, after an earlier stay with his brother for a few weeks.
Before that the brothers had spent years living in different parts of New Zealand. Yet they were still close.
Dave Stirling called his brother a "top bloke".
"He was a good brother, who would do anything for anyone. If anyone wanted help, he was always there."
Leslie Stirling had been living in Christchurch for the past 11 years. He is survived by his wife Carol.
Maritime New Zealand are assisting police with investigations.