Rihanna says her new tattoo is a reminder of things in the past.
The singer got her hand inked in New Zealand on Wednesday with a traditional Maori tribal tattoo designed by Inia Taylor.
The ceremonial artwork is considered a rite of passage and was tattooed on her with a chisel, mallet and ink.
"It's not about getting a tattoo, it's a ceremony. Tattoos aren't fashion. They are a way to get rid of pain in your life. You have to create pain to get over pain," Taylor told Celebuzz, adding that the star confided in him about her own pain throughout the process.
"I didn't realise she had such a hard time. Apparently, she had such an asshole of a boyfriend, she said. The tattoo is just a reminder of the things in the past. Lord knows, she overcame a lot of that s***."
According to Celebuzz, the Maori design uses the ancient language of Ta Moko to symbolise a traditional prayer.
Taylor told the website the designs Rihanna chose illustrate her desire to explore deeper meaning in life.
"The symbols involved are of dreams, hope, aspirations and navigation with Polynesian stars on her fingers," he said.
Taylor was introduced to the 25-year-old star by New Zealand musician Tiki Taane, who posted a video of the tattoo session on YouTube.
Rihanna can be seen grimacing through the pain as the chisel pounds into her skin.
"She's a very brave girl and we applaud her for that," Taylor said, revealing the pair developed a special bond during the session.
"I told her when my family's in the room, she's not the only rock star. And she laughed. I actually don't tattoo rock stars, I only tattoo family. So we consider her family."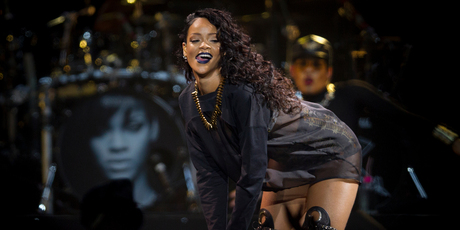 - Cover Media