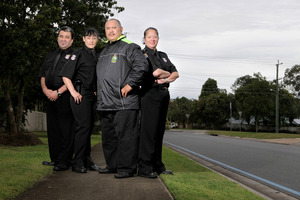 A group of uniquely New Zealand community heroes have taken up posts across the ditch.
Maori wardens are gaining publicity for their voluntary services to Australian communities.
The Australian reported that a group of wardens have set themselves up in Loganlea, south of Brisbane, and have plans to take the service nationwide.
Rawiri Toko said he wanted to help the community and also enlist wardens from other cultures that made up the area.
"We're trying to make a difference with our people wherever we can," he said.
"Mainly the reason we started was to help our people a little bit at different events, and not just our people but anyone who needed the Maori wardens, but that's just the small picture.
"The bigger picture is starting up different ethnic groups of wardens. We want to open it up and we want to walk the streets of Logan with different groups of people."
Mr Toko said Melbourne was the next step for the group, who were encouraging young people to get involved in their communities.
"It's time to get our youth involved so we're teaching our youth how to talk to people on the streets, how to communicate and work alongside their peers."
The wardens were set up in New Zealand in 1962 through the Maori Community Development Act.