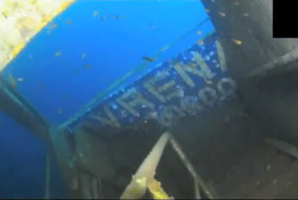 The owners and insurers of the MV Rena already look to have a battle on their hands just hours after signalling their intention to leave part of the wrecked cargo ship on Astrolabe Reef.
They propose leaving part of the wreck in place after removing contaminants and clearing or closing any hazards making the wreck unsafe for diving.
But a lawyer acting for a group of Bay of Plenty iwi said that if the owners could not secure the endorsement of iwi and residents, the matter was likely to land in the Environment Court.
If agreement could not be reached before a resource consent application was lodged, the owners might consider referral to the court, Robert Makgill said last night.
Mr Makgill believed there was a "good prospect" the matter would become a large court case.
Iwi felt the only way to restore the reef's pristine marine environment was to remove the wreck completely, he said.
"Iwi have no intention of simply rolling over and letting a large international corporation make a mess in New Zealand's backyard, leaving behind a legacy of toxic waste."
Buddy Mikaere, a cultural adviser to a large group of iwi, said iwi on Motiti Island and those on the mainland wanted all environmental damage cleaned up.
"There is a wall of iwi support from Tauranga to Whakatane solidly against leaving the wreck behind."
A spokesman for the owners and insurers last night said there would be no "fast and simple solution", but they were committed to dealing with the wreck "in the most safe and practicable way".
The site would be monitored regularly and modelling had shown the remaining material would rapidly disperse, although some contaminants could affect ecological regeneration.
MPs Grant Robertson and Gareth Hughes, environment spokesmen for Labour and the Greens, said any decision over the ship should reflect what was best for the environment and Bay of Plenty residents, and not cost.
The insurers will hold meetings with iwi and focus groups, and two drop-in days will also be hosted in Mt Maunganui next week.
What next?
*Rena's owners and insurers to confirm proposal to apply to leave part of the wreck on the reef. Could lead to a drawn-out resource consent process.
*Maritime New Zealand to release a review of its response into the initial grounding. Due this month.
*Report by the Transport Accident Investigation Commission into wider circumstances of the disaster.
*A court decision due to confirm a limitation decree and constitution of a $11.5 million compensation fund.