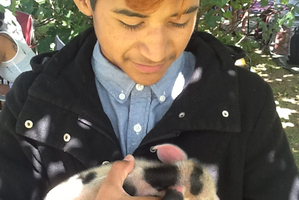 Jharden Davis, 16, from Moerewa, brought his 2-week-old piglet Haramai to Waitangi. It was very cute.
The pet perfectly sums up the two days at Waitangi - the politicians' visit on the 5th and yesterday's public holiday - anything goes.
In Ngapuhi-land there's never a shortage of characters - villains (often the media, people here moan), the eloquent, comedians or otherwise. Other iwi, regarded here colloquially as "from down the line", generally manage some sort of outward discipline for visitors, but in the north there's sometimes a loony looseness.
It's the thing you love about the region but it's also the feature that at times can be ugly.
I'd like to write off "Grannygate" as a knitting needles at mid-morning kind of dispute, except for the lonely figure Ani Taurua cut quietly facing a collection of Harawira women.
Waitangi on the first day is without fail essentially nutty.
Te Tii Marae with the Prime Minister's visit isn't the place for any kind of real dialogue. That's the way it is. But other things do happen here.
Important issues are raised in the annual Iwi Chairs Forum, but the group is somewhat aloof from the people as much of the debate happens behind closed doors, except for a session where the PM visits, which is open to media.
Community groups, marae, health and sports organisations and Sir Owen Glenn's child and domestic abuse inquiry have all had things going on.
The second day is lovely. Kiwis of all persuasions hang out in the sun, get burned and eat too much.
The hikoi are generally tame affairs, where every kaupapa/concern under the sun gets an airing. It's part of the fabric of the event - they're boring traditions.
Anyway, the piglet's name means welcome. An auspicious name really, at the home of the Treaty of Waitangi.