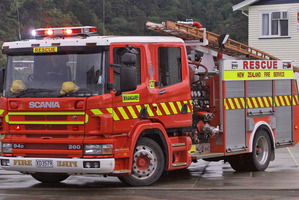 A Waikato family has had a lucky escape after their home on a Waikato Marae was totally gutted by fire overnight.
Fire Service spokesman Steve Smith said crews were called to Waahi Marae on Harris Street in Huntly about 12.10am.
He said the 60x10m building was "totally gutted" in the blaze.
Seven fire trucks were called to the scene, and it took two hours for the fire to be extinguished.
Tuata Haunui-Wirihana told ONE News he was asleep with his partner when his mother woke him up.
"By the time I got up I ran straight to the front door and there was big flames, so I opened the door to try and get out but the fire was right there," he said.
"So I closed it and ran around the other side of our house and straight towards the river. It's heart-breaking to see our house like that."
All three made it out safely and no one was injured in the blaze.
A second building at the marae is smoke-logged, but the fire did not spread to any other buildings on the marae.
Fire Safety is investigating the fire.
- nzherald.co.nz