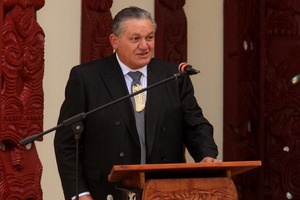 King Tuheitia. Photo / Alan Gibson
Prime Minister John Key says his Government is "unlikely" to attend next week's hui on Maori water rights called by Maori King Tuheitia.
Mr Key this week ruled out a national hui to consider water rights after announcing the delay of the partial sale of Mighty River Power in response to the Waitangi Tribunal's ruling on the Maori Council's claim on water rights.
But late yesterday Waikato-Tainui tribal member Tuku Morgan confirmed King Tuheitia had called the meeting which was not exclusively for iwi leaders. An invitation had gone out to the Maori Council and politicians to see if a consensus could be formed around a cohesive plan to deal with water issues.
Speaking to reporters in Wellington this morning, Mr Key said he would be in Vladivostock when the hui was scheduled to take place on Thursday but the prospect of anyone else from his Government was " unlikely I would have thought".
Mr Key said it was "extremely important that people don't get confused" about the talks his Government is to have with iwi about the Mighty River sale over a five week period.
The purpose of that consultation was "to confirm the point that the sale of shares in those companies in no way affects the rights and interests of Maori in water".
Any genuine rights or interests were protected by section nine of the SOE Act he said.
He indicated that anything that came out of the hui was unlikely to influence the
Government's approach to the Mighty River partial sale, now scheduled to take place in the second quarter of next year.
"Whatever might come out of the hui and whatever range of views might be there about rights and interests have to be proven to the Government and the Government will have to accept those. In my view that will be a very long conversation that will take place."
The Government would not accept any proposal for a pan tribal settlement that emerged from the hui, Mr Key said.
"In our view it's not possible to get a national settlement the obvious reason for that was expressed by the tribunal itself when it said rights and interests when it comes to water with Maori are local interests."
Mr Morgan yesterday told the Herald the hui was about "trying to get a collaborative approach. This is a significant conversation about trying to identify Maori rights and interests in water," he said.
Mr Morgan wouldn't be drawn on what the likelihood of a unified approach would be, given that the Maori Council's Maanu Paul has signalled court action while Waikato-Tainui's chairman Tom Roa has signalled it would back an iwi-by-iwi approach to settling water claims.
Mr Paul yesterday said court action by the end of the week was very likely given the Government's refusal to consult with the council. He said the council would seek a declaration from the Court of Appeal "to give force" to the tribunal's recommendations.
But Maori Council lawyer Donna Hall dismissed that prospect.
"I know nothing at all about this ... That is not the instruction I have."
She said the council was to have a full meeting on September 15 by which time it expected to have the tribunal's full report on stage one of its consideration of the claim.
"I would expect at that meeting they'll be confirming what they're going to do," she said.
While the council yesterday struggled to maintain a unified voice it was also fighting for a national Maori stance on water rights which was mooted at an August 6 hui in Wellington organised by the Maori Party.
Te Rarawa chairman Haami Piripi - who is on the Iwi Chairs Forum and attended that hui - yesterday backed the view that only those iwi affected by the sale needed to speak to the Crown about the Mighty River float.
His view was challenged by Rihari Dargaville who represents Maori Council claimants from the Far North.
"That response is absolutely negative and contrary really to the agreement we made with iwi leaders down in Wellington on August 6 and that is not the position here of the North," he told Radio NZ.
Council deputy chairwoman Rahui Katene said the council was to meet with the Iwi Leaders Group next week to discuss a national approach.
She said the aim was for a national framework for negotiation rather than a national settlement.
Meanwhile New Zealand's third largest iwi, Ngati Kahungunu, has confirmed it is taking its own freshwater claim to the Waitangi Tribunal.
Chairman Ngahiwi Tomoana said the delay to the Mighty River sale was a chance to define the merits of unsettled claims by Ngati Kahungunu hapu before any rights were sold.
Although Mighty River has no power stations within the iwi's rohe or area, one of its hapu was resettled from their Wairarapa home to the Pouakani block in South Waikato early last century and is one of the co-claimants in the Maori Council's claim.
Mr Tomoana said one reason for making the claim was to ensure its hapu was not overlooked when the Government consulted with Maori affected by the sale.