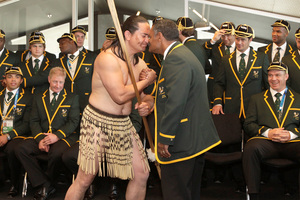 Auditor-General Lyn Provost says funds for the building of Te Raukura, a boathouse on Wellington's waterfront, were spend appropriately and she won't investigate further.
Some $7 million was confirmed in Vote Maori Affairs in Budget 2008 for the construction of the wharewaka.
The Crown provided some funds for building the wharewaka to a trust that works with Wellington Waterfront Ltd - a council-controlled organisation owned by Wellington City Council.
It found Te Puni Kokiri took appropriate steps to make sure funding for the wharewaka went to a legal entity.
The Office of the Auditor-General said the matter was investigated from documents from Te Puni Kokiri and the Office of Treaty Settlements
"We are satisfied that the Crown funds have been spend on the purpose for which they are appropriately - namely the construction of a wharewaka on Wellington's waterfront - and have concluded not further investigation into these issues in warranted."
The Office of the Auditor-General looked at the contracts between Wellington Waterfront Ltd and the trust to see whether Wellington Waterfront Ltd had property enforced its commitments.
"We do not regard the information that was provided to us as sufficient to suggest that an inquiry is needed into how well that funding is being monitored and managed."
"We established that the idea of building a wharewaka emerged during the port Nicholson Block Claim negotiations to settle historical Treaty of Waitangi claims."
Ms Provost said the Crown saw the wharewaka as being a significant venue for Maori cultural events in Wellington, and had economic benefits by attracting tourists.
She said the idea to build the wharewaka came up during the negotiations of the Port Nicholson Block claim but the matter was pursued outside of the negotiations, and was not part of the settlement of the Port Nicholson Block Claim.
"We have been told that it is common for ongoing government business rather than as part of the settlement," she said.
Through the ratification process of the settlement offer to an iwi in Taranaki it was made clear the Crown intended to provide $7 million for the construction of a wharewaka as a separate matter.
- APNZ