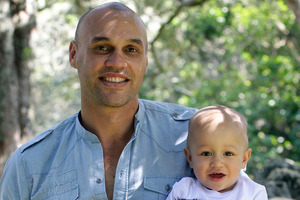 Awen Guttenbeil with his son Niko. Photo / Sarah Ivey
Former Warriors rugby league star Awen Guttenbeil is promoting a $3 million advertising campaign to persuade Maori fathers to be "nurturing warriors".
Guttenbeil and his wife Natasha, both 36, will propose the idea to Parliament's Maori affairs select committee today at the opening hearing of an inquiry into wellbeing for Maori children.
They have made four programmes for iwi radio stations on a new parenting programme, Tikanga Whakatipu Ririki, which draws on pre-European Maori parenting practices to try to reduce the rate of Maori child abuse.
Children's Commissioner Dr Russell Wills has told the inquiry that hospital admission rates for assault, neglect and maltreatment of children are six times higher in the poorest areas of the country than in the richest areas, and three times higher for Maori children than for European children.
But research last year by Professor Kuni Jenkins and Helen Harte found that early European observers of pre-colonial Maori society remarked on "the place of the nurturing warrior - the father as carer along with the mother".
J. S. Polack wrote in 1840: "When the baby boy was weaned, his father took over his care and the mother cared for the girl babies."
All adults and older children cared for younger children in a system described as "the child is a child of the tribe".
Children were trained "to be loving and tender for their whanau in the kainga and hapu and to be fierce and cruel soldiers to others".
Guttenbeil, who was born in Whangarei of a Tongan father and a Ngapuhi mother, said he agreed to front the Tikanga Whakatipu Ririki programme partly because he "grew up in a household where there were instances of violence".
"It only happened three times that I can recall," he said. "But in those terms, once is too much. I think it changes your hard-wiring as a kid, it means you look at the world differently.
"I guess the evil for us was alcohol. My father gave up drinking 20 years ago. From then on, our whole way of life changed and it gave me a whole lot of respect for him taking that step."
Awen and Natasha Guttenbeil have two children - daughter Mila, 6, and son Niko, 20 months. They decided before Mila was born that they would never use any violence towards them.
"We don't smack our kids or anything like that," he said. "By no means are we pushover parents who just let the kids do what they want. It's finding a balance. The biggest thing is for your children to know where your line is and consistency is the key."
The Guttenbeils will today urge MPs to support a call by the advocacy group Ririki, which developed Tikanga Whakatipu Ririki, for a $3 million advertising campaign to spread the word to all Maori parents.
Ririki director Anton Blank said a similar advertising campaign had slashed the number of Maori smokers.
Dr Marewa Glover, of Auckland University's centre for tobacco control research, said smoking rates had dropped from a peak of 70 per cent in 1981 to 48 per cent in 2009 for Maori women, and from 63 per cent to 39per cent for Maori men.
Dr Glover said public education was only one element in that drop, with tax increases, smoking bans in public places, advertising and sponsorship bans and the Quitline support for giving up smoking.
But Guttenbeil said public education was important to reduce child abuse.
"Every month we see another kid's name as a victim of abuse," he said. "We have to try to do everything we can."
HELPING TAMARIKI
* Maori fathers in pre-European times were "nurturing warriors".
* Every child was brought up by all adults as a "child of the tribe".
* Men looked after boys and women looked after girls.
* All children were trained to love their own whanau and to be fierce and cruel to outsiders.
Source: Kuni Jenkins and Helen Harte, Traditional Maori Parenting, 2011.
ON THE WEB
www.ririki.org.nz