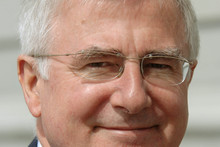 From time to time, an academic or educator will come out and call for Maori to be taught as a compulsory subject in our schools.
Typically, the academic or educator is Maori themselves and the story provokes intense debate among those who think it's pointless learning a "dead" language that has no currency abroad and those who believe learning another language at an early age is great for stimulating a young child's brain, and that it makes perfect sense to learn the language of your own country.
This week, however, it wasn't a prominent Maori calling for te reo to be taught in primary schools - it was Trade Minister Tim Groser, a man who has lived and worked around the world and who knows the advantages of being able to communicate beyond a superficial level in many languages.
This is no heavily tattooed, scary radical. Groser is the poster boy for Pakeha New Zealand, and he may well be the Trojan horse that gets the idea of bilingualism beyond the bristling defences of those utterly opposed to the idea of nurturing te reo.
To be honest, for the purposes of education kids can be taught any language. Once children learn a second language, the third and fourth become even easier to absorb.
But, as Groser says, it's appropriate that New Zealand children learn the language of their own country. Bilingualism, too, is a gateway to biculturalism - as well as understanding another language, you begin to understand another way of life and that has to be a good thing.
Whenever I'm in Europe, I'm equal parts awestruck and embarrassed at the ease with which many Europeans can switch between their mother tongue, English and any number of other languages.
They're not necessarily more intelligent. It's just that their children have been exposed to a variety of languages from a young age and so by the time they're adults, slipping from French to Spanish is as natural as breathing. Understanding different languages and cultures doesn't make Europeans any less patriotic, either.
I'm pleased Groser has raised the issue of bilingualism in this country. Hopefully, his thoughts will be the catalyst for action.
By Kerre McIvor

Email

Kerre