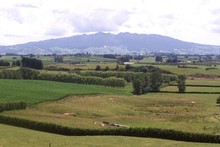 Land sales to foreign investors must be stopped. For a government looking for a principled framework on which to base foreign investment policies, it need look no further than the principles contained in the preamble to Te Ture Whenua Maori Act 1993:
" ... it is desirable to recognise that land is a taonga tuku iho of special significance to Maori people and, for that reason, to promote the retention of that land in the hands of its owners, their whanau, and their hapu, and to protect wahi tapu: and to facilitate the occupation, development and utilisation of that land for the benefit of its owners, their whanau, and their hapu."
Waikato-Tainui's opposition to the foreign ownership of land is not xenophobic, or racist, or even nationalistic. Our opposition is multi-faceted and deep-seated.
There are strong cultural and spiritual elements to our belief that land ownership must remain in the hands of New Zealanders.
Unfortunately, these concepts do not lend themselves well to modern liberal economic theories, which still permeate the Overseas Investment Office's investment criteria and pervade the corridors of power.
It was this very issue - a desire to retain ownership of our lands and to halt further land sales to foreigners - that was a driving force behind the Kingitanga movement in the late 1850s.
Unlike the current Government, which seems to be adopting a softly-softly approach, the response of Governor Sir George Grey's colonial Administration was both decisive and emphatic - the invasion of the Waikato by colonial troops, the exile of her people for more than 20 years, and the confiscation of more than 1.2 million acres of some of New Zealand's most fertile and productive lands.
It is worth noting that in the 1995 Deed of Settlement, the value of this land was put at $12 billion. Pakeha will remember that we received a total package of $170 million.
Some of this same land is now on the brink of being sold to foreigners. Again.
We note the plaintive cries from farmers, always quick to point out that land has been in their families "for generations", and can only empathise with their plight given our own historical land grievances.
Finally, after 150 years, are Pakeha New Zealanders beginning to understand that land ownership is about more than a simple economic transaction?
To hear our Prime Minister expressing concern "over the risk that New Zealanders become tenants in their own land" is particularly poignant to the people of Waikato-Tainui.
For that is exactly what happened to this iwi, and to the tribes of Taranaki.
But Waikato-Tainui were not simply reduced to being tenants - we became outcasts from our own lands. Land losses in the 19th century had dramatic and terrible consequences for Maori.
It's estimated that in 1840, Maori controlled around 66 million acres of land. By the end of that century, Maori were reduced to holding just 3 million acres - and much of that was of poor quality and unproductive - land that, in the main, Pakeha did not want.
Economically, spiritually, socially and culturally the loss of our ancestral lands was a blow that only now, a century and a half later, are we in a position where we can start to lead our people out of the literal and figurative wastelands to which we were consigned.
Maori continue to regard their land as taonga tuku iho, a treasure. Land gives us our identity, our kotahitanga, our tino rangatiratanga.
For Waikato-Tainui, land is a resource to be preserved and respected according to the principle of kaitiakitanga (guardianship).
We do not "own" it as individuals. We are merely caretakers for those generations who went before, and those yet to follow.
Our position on the foreign ownership of land is the same as it was 150 years ago. It must not happen.
Many of the countries lining up to buy our lands do not allow foreigners to buy land in their own countries.
This is not to say we don't welcome their investment in capital equipment, new technology, research and development.
Waikato-Tainui has established relationships with foreign partners. We want to reach out and be part of a vibrant global community. We will draw on the skills and resources of overseas partners as they will benefit from ours.
But land sales will never be a part of those relationships.
A key element of Whakatupuranga 2050, our 50-year inter-generational strategic plan for the social, cultural and economic advancement of Waikato-Tainui, is to grow the tribal estate - to reclaim for our tamariki and mokopuna, and for their tamariki and mokopuna, the lands of their tupuna, their ancestors.
We are doing that block by block, acre by acre, piece by piece. It is a long and drawn-out process - to reverse the alienation of a people from its land - but we are determined.
Pakeha have a whakatauki (saying) that those who fail to heed the lessons of the past are doomed to repeat it.
Has the lesson been learned? If the present Government continues to form policy with an eye on satisfying the increasing fickleness of international capital, then the lesson provided by the tragedy of the Raupatu (land confiscations) on the people of Waikato-Tainui has fallen on deaf ears.
Our message to this Government is to act decisively. Maori do not want these sales to continue. Pakeha do not want them to continue. Opinion polls are emphatic in their opposition to land sales continuing.
The experience of Maori, dispossessed of their land and then left to the ravages of poor health, sub-standard housing and educational underachievement as a result should not be regarded simply as a history lesson.
Rather, the Maori experience should serve as a warning to all those who view this country's land and her people as separate entities.
I riro whenua atu me hoki whenua. As land was taken, land must be returned.
* Tukoroirangi Morgan is chairman of Te Arataura Waikato-Tainui.
By Tukoroirangi Morgan