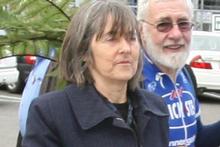 Marina waste will be dumped on the continental shelf near Great Barrier Island in a trial given the go-ahead by Maritime New Zealand.
The decision has disappointed iwi, but they say at least it will give them more robust scientific information to understand what the impact could be.
The trial will last a year and will allow Coastal Resources to dump up to 7000cu m of dredged sediment from Pine Harbour Marina on the Whitford Estuary, at a site 26km east of Great Barrier. However, the company wants a 35-year permit to dump up to 50,000cu m annually.
Maritime NZ environmental analyst Tara Ross-Watt said the trial would be subject to strict conditions.
As part of the application CR was required to commission comprehensive independent assessments of all potential impacts, including analysis of dredge sediment samples - the permit stipulates the concentration of trace metals and organic components mustn't exceed those tested levels.
"Any breach of the conditions can result in operations being suspended or the permit being revoked."
It could also be suspended if the bulk of the dredge waste is found outside the dump site.
Mr Ross-Watt said independent experts had advised MNZ the environmental impacts would be negligible.
"Further surveys have shown that the trial site has no significant ecological values and the seafloor in the area is comprised of sediment similar to the material that will be dumped there."
Only after trial results were reviewed would Maritime NZ consider approval for long-term use.
Ngatiwai Trust Board spokesman Clive Stone said the tribe's position had always been against dumping.
But he hoped the trial would give more certainty around environmental impacts. The trust would be watching the monitoring and hoped an independent scientist, acceptable to all parties, would be employed.
"At the moment all we've got is Coastal Resources hypotheses that everything will be all right. Well, that doesn't mean much to us."
Ngati Rehua belong to Great Barrier. Hapu spokesman Bruce Davies hated the idea of waste being dumped so close to the island, when it could be sent to landfills.
He said he was annoyed Maritime NZ had "justified" the sea disposal by pointing out it was a common practice, here and internationally.
"To me, that doesn't make it right."
Green MP Catherine Delahunty said "Hauraki Gulf lovers" would be appalled at the decision, which amounted to a "cheap and nasty" solution to manage dredge.
By Yvonne Tahana

Email

Yvonne