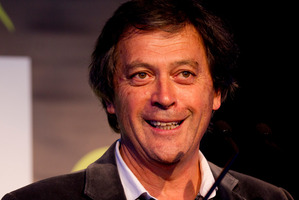 The chairwoman of Maori Television says there will be no further resignations from its board despite its failure to reach a unanimous decision to appoint a new chief executive.
Maori Television announced yesterday that it would not appoint a new chief executive to replace the outgoing Jim Mather. It will instead designate an interim when he leaves to take up a position at Te Wananga o Aotearoa next month.
The search for the station's boss has been fraught with controversy after it was revealed one of the final candidates for the role was former TVNZ broadcaster Paora Maxwell, who is a close friend of Maori TV board chairwoman Georgina te Heuheu, and questions over staff management during his time at the state broadcaster.
Dozens of Maori TV staff signed a petition against Mr Maxwell's possible appointment when news of his candidacy broke. Ructions about the recruitment process sparked the resignation of sports graphics entrepreneur Ian Taylor, who quit the board two weeks ago.
Mr Taylor told the Herald he resigned as a Crown representative on the board over the "process" around the job search and not being allowed to speak out.
He had hoped resignation would give him the freedom to make comments, but he declined to spell out all the issues.
"I resigned because the board was not fully informed - you cannot expect board members to make ... . decisions if they do not have all the information." Asked if the absence of information related to details on one candidate's background - as was suggested in Parliament last week - he said: "For a board to function there needs to be frank and open discussion."
Mrs te Heuheu last night told the Herald there was no conflict of interest or favouritism with Mr Maxwell and she had declared her relationship with him to the board. She said the recruitment process had been robust and appropriate.
Asked if she ignored a recruitment company's recommendations against Mr Maxwell's appointment and overturned its decision, as alleged in Parliament by Labour MP Clare Curran last week, Mrs te Heuheu said she was "not particularly interested in answering her claims".
"This was not about one person or the chair making decisions, this was actually about the board whose role it is to perform one of the most important decisions and that is to appoint a CEO."
Despite the board failing to do that, she said neither she nor any board members intended to resign.
Mrs te Heuheu said it was unclear whether applicants for the chief executive's position would be invited to reapply when the next recruitment process starts, possibly later this year.