Maori TV's 10-year-old reality programme was never just about rebuilding and landscaping, frontman says.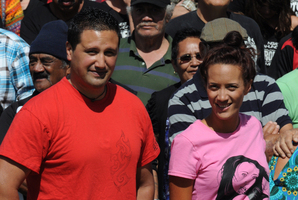 One of Maori Television's oldest reality shows, AIA Marae DIY, celebrates its 10th season tonight.
The show travels the country to spruce up wharenui, dining halls, kitchens and toilet blocks, throwing in major landscaping for good measure in projects that can run to $150,000 worth of work. It ropes in local tradespeople, community members and whanau to get the job done over four days.
Host Te Ori Paki has been there since the beginning and in 10 years nearly 80 marae renovations have been completed.
It's a gig which has allowed him access to some hidden places - waahi tapu such as whale burial grounds and Rua Kenana's (the Tuhoe prophet and land rights activist) altars - and one-on-one interviews with kuia and koroua (elders) about their world.
Sharing stories of the people and places was humbling work, Paki said. "It was never, ever just a DIY show. The opportunity on the surface, yep, was about doing some painting, some landscaping some rebuilding, but it was just an opportunity to get in there and show our people in the most positive light.
That, of course, is coming together as one."
Singer Ria Hall joined the show this season. Watching kuia go off to be treated - hair, clothes and makeup - and return once the work was completed was a regular feel-good moment, she said.
"They get a bit of a fright, the nannies do, at getting a treat. They don't know what to do with themselves which is really cute."
Pakirikiri Marae in Tokomaru Bay stood out for her.
"It was pouring, like it was torrential, and there were a whole bunch of kids doing a powhiri and I was standing under an umbrella. I thought, 'I best get in there as well. I'm not going to stand here and be a chump, I'm not going to be a sook.'
"All the kids get stuck in. They really, really care about doing a good job for their marae."
But watching non-Maori from the wider region work with those more intimately connected to it was a lesson about the best of New Zealanders.
"I think people respond to a sense of community. What I found on the shoots is that it wasn't just Maori or people from the local hapu ... everyone from around the community came to help and I think that is what makes it unique. Our show brings people together."
Translation
I tenei po ka whakanuia tetahi o nga whakaaturanga tuturu roa rawa atu a Pouaka Whakaata, a Marae DIY, i tona 10 tau.
Ka haerere tenei whakaaturanga i te motu ki te whakapai haere i nga wharenui, nga wharekai me nga wharepaku, me nga mahi whakarakei i te whenua i roto i nga kaupapa mahi, a, ka eke pea ki te $150,000 te wariu o nga mahi. Ka orua mai nga kaimahi ahumahi o te rohe, nga mema o te hapori me nga whanau kia oti ai te mahi i roto i te wha ra.
Ko Te Ori Paki te kaihautu, a, i reira ia mai i te timatanga ka mutu i roto i te 10 tekau e 80 nga marae kua whakapaihia.
Na tenei mahi i tae ia ki etahi wahi huna nga wahi tapu penei i nga urupa tohora me nga tuahu a Rua Kenana - me nga uiui takitahi i nga kuia me nga koroua mo to ratau ao.
He mea whakamowai mona te tuari i a ratau korero whanui mo nga tangata me nga wahi, hei ta Paki. Ehara tenei i te whakaaturanga DIY anake ki a ahau. Ki te tirohanga kanohi, ae, ko te peita, ko te whakarakei whenua, me te hangahanga, engari he whai wahitanga hoki ki te whakaatu i nga ahuatanga papai o to tatau iwi, ara ko te kotahitanga.
I uru te kaiwaiata a Ria Hall hei kaihautu tautoko i tenei tau. Hei tana, he tino ataahua te kite i nga kuia e haere ana kia whakapaipaitia mai nga makawe, kakahu me nga rakai kanohi ka hoki mai i te otinga o nga mahi.
Ka ahua tumeke ratau, nga kuia, i te whiwhi manaaki. Kaore ratau i te mohio me aha ratau, tino aroha ke.
E kore e wareware i a ia te rongo i nga kare a-roto i to ratau hokinga mai.
Ko te Marae o Pakirikiri i Tokomaru te mea tino miharo ki a ia.
I te tino kaha te ua, he patapataiawha, a, i reira tetahi ropu tamariki e powhiri mai ana i a au e tu ana i raro i te hamarara. Ka whakaaro ake au, 'Me uru atu hoki au. Kaua rawa au e tu ki tahaki noa iho, penei i te mea he tautaua au.'
Ka whakapau kaha nga tamariki. Ka nui to ratau hiahia kia tino pai a ratau mahi mo to ratau marae.
Engari na te matakitaki i te hunga tauiwi o te rohe whanui e mahi ana me te hunga o te marae ka kite i nga akoranga mo te ahuatanga pai rawa o nga tangata o Aotearoa.
Ki a au ka urupare te tangata ki te ahuatanga hapori. Ko taku i kite i enei whakaaturanga ehara ko nga Maori anake, ko nga tangata o te hapu ranei, i orua mai nga tangata katoa o te hapori ki te awhina, koinei te mea tino ahurei. Ko te kaupapa o ta matau whakaaturanga he whakakotahi i nga tangata.