John Key addresses a question regarding who would lead the Prime Minister onto the marae at Waitangi this week, following moves by Ngapuhi trustees to oust Titewhai Harawira from escorting dignitaries.
Latest NZH Video
Jacinda Ardern speaks at the 'Let's Talk to Labour' youth event.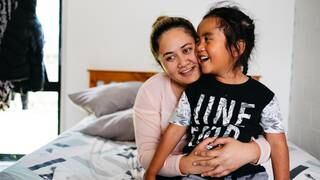 19 Aug, 2017 3:54pm
2 minutes to read
Exclusive: Compelling documentary challenges stereotypes around young mothers.
Protesters marching on Dunedin Hospital have forced Prime Minister Bill English and his entourage out a side door this afternoon. Source: ODT