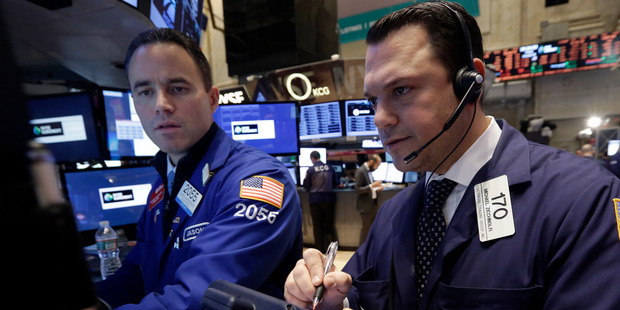 Stocks on both sides of the Atlantic rose as the World Bank upgraded its forecast for global growth and as US corporate earnings such as from Bank of America were better than anticipated.
The World Bank lifted its forecast for global growth, saying it expects the economy to expand 3.2 per cent this year, up from 2.4 per cent in 2013, and up from a previous estimate of 3 per cent.
"Global economic indicators show improvement," Kaushik Basu, senior vice president and chief economist at the World Bank said in a statement. "But one does not have to be especially astute to see there are dangers that lurk beneath the surface."
In afternoon trading in New York today, the Dow Jones Industrial Average rose 0.74 per cent, the Standard & Poor's 500 Index gained 0.57 per cent, while the Nasdaq Composite Index added 0.72 per cent. Shares of Microsoft, last up 2.5 per cent, and those of Caterpillar, last up 2.4 per cent, led gains in the Dow.
Shares of Bank of America climbed 2.4 per cent after the company reported results that surpassed expectations and bolstered optimism about the outlook.
"More than any of the recent quarters that I can recall, I think it really showed a bank that's well into recovery," Shannon Stemm, a banking analyst with Edward Jones, told Reuters.
Bank of America reported net income of US$3.4 billion for the fourth quarter of 2013, compared to US$732 million in the year-ago period.
"We enter this year with one of the strongest balance sheets in our company's history," Bank of America Chief Financial Officer Bruce Thompson said in a statement. "Capital and liquidity are at record levels, credit losses are at historic lows, our cost savings initiatives are on track and yielding significant savings, and our businesses are seeing good momentum."
Shares of Apple rose, last up 2.4 per cent. China Mobile, the world's largest phone company by users, said pre-orders for the iPhone have reached about 1 million units ahead of sales in the carrier's outlets that start at the end of this week, Bloomberg News reported.
On the economic front, the Federal Reserve Bank of New York's general economic index increased more than expected to 12.51 in January, from a revised 2.22 in December. Separately, the producer price index rose 0.4 per cent in December, after a 0.1 per cent decline in November, according to Labor Department data.
"Pipeline inflation pressure is still pretty well contained," Gennadiy Goldberg, a US strategist at TD Securities USA in New York, told Bloomberg. "The lack of inflation pressures will give the Fed more room to manoeuvre."
In Europe, the Stoxx 600 Index ended the day with a 1 per cent advance from the previous close, finishing at the highest level in six years. The UK's FTSE 100 increased 0.8 per cent, France's CAC 40 rose 1.4 per cent and Germany's DAX jumped 2 per cent.
Here, shares of Burberry jumped, up 4.6 per cent, as the UK maker of luxury goods posted profit that exceeded expectations.
"At current levels, exchange rates will be a significant headwind in the second half and beyond, and the macro environment remains uncertain, but we are confident that our proven strategies will continue to deliver long-term value for shareholders," Angela Ahrendts, Burberry Chief Executive Officer, said in a statement.