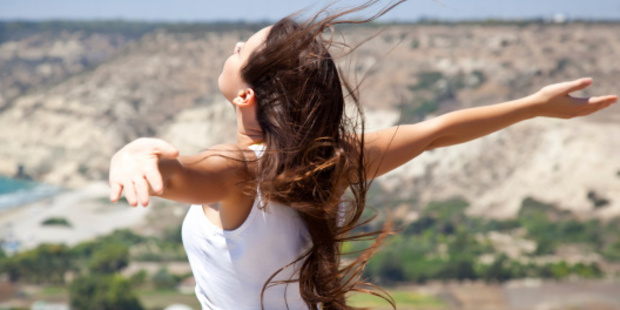 Learning to live more of our life in the moment is a life-changing secret of happiness. I think many people avoid it as it implies meditation and hours spent in silent contemplation to access. Who has the time and space for that? Meditation is one way, sure, but it's not the only way to connect with the present.
Living in the moment is a skill and one you can learn. Ready? Let's do it:
One of the greatest sources of unhappiness there is comes when we are stuck (either mentally and emotionally) in the past, or in the future. What I mean by this is that our mind is where our body is not. So, for example, we can be in a meeting but feeling guilty we are not home with our child. Or we can be out for dinner with someone but wishing we were someplace else with someone else. Or we can be doing the laundry but thinking about the old job we used to have way back when. In each of these cases our mind is where our body is not. In each of these examples our mind is either in the future or in the past, and therefore we are emotionally unavailable to connect to any of the happiness, calm or contentment that might be available to us if we were truly experiencing that situation in the present moment.
Happiness is found in the present moment. That's where it lives, that's it's home. If we want to be happy we need to be connecting with "now".
In this increasingly busy and connected life in which we live it's really easy to think "I'm just not a live-in-the-moment kind of person". That's actually a pretty lazy answer, I'm afraid! Those who have that aspirational kind of peace, calm and connection to the present moment are rarely born that way. It's a lifetime of discipline and commitment to noticing and returning to the present moment.
Being present and radiating a sense of calm is not an innate attribute, it's actually a skill. With a little patience and commitment it can be learned. Remember, you have a handy tool to remind you how to be present, and it's always with you. It's called your body, and wherever it is and whatever it is doing is your present, and your place to connect to happiness from!
Here's an easy way to be more present and increase happiness and connection immediately. Turn your phone on to silent and do not have it visible on the table when you are having coffee with someone. Yes yes, I know, you are dreadfully important and there might be an emergency etc. but really, unless you are a neurosurgeon or the President of the United States, there really are very few calls that cannot wait 30 minutes to be returned. You have chosen to have coffee with that person, so, be fully present and HAVE COFFEE WITH THAT PERSON! Be fully engaged with what they are saying. Ask them reflective and intelligent questions. Connect with what they are saying. Express what you need to. Truly taste the temperature and blend of your coffee. Observe the sights and smells and sounds in the cafe.
Being present means connecting to what you are doing RIGHT NOW, with all five senses, giving it your fullest attention. Not listening with one ear, with one eye on Facebook, or texting (mmmm . . . yeah, yeah, sounds . . . er . . . good . . . mmmm) while thinking about the three things you need to do when you leave. The connection, calm or joy that is open to you in that interaction will increase exponentially when you allow yourself to be present in this way.
Don't get me wrong. Goals to aspire to in the future are good. Reflection and learning from the past are good. But we should be wary of spending too much of our time in the future or the past, and, to increase the feelgood factor in life, choose to spend more time experiencing all the present has to offer.

Action step
Allow your mind to meet your body where it's at. Wherever your body is now is your present moment. If it's having coffee with someone, be fully present having the coffee and engage all of your senses in that experience. If it's writing that briefing document, focus fully on the sound of your fingers as you type and the page filling before you. If you are doing the gardening feel the soil moving through your fingers and the sounds of the wind. If you are playing with the kids, play with the kids. There is much more peace, contentment, fun and joy available to us than we realise once we start to consciously reconnect with the moment.

Louise Thompson is a life coach, yoga teacher and corporate escapee. For more from Louise visit www.positivebalance.co.nz.