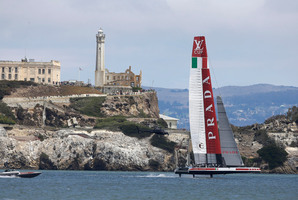 Artemis Racing's disastrous America's Cup challenge has come to an end after just four races, with Luna Rossa wrapping up the semifinals of the Louis Vuitton Cup this morning.
Making a belated entry into the regatta after launching their second boat just over two weeks ago - following their devastating training accident in May - the Swedish team simply hadn't had the time in the boat to be competitive.
Their lack of confidence in their ability to maneouvre the boat effectively at top speed saw Artemis pick up two boundary penalties on the race course today, while helmsman Nathan Outteridge also incurred a penalty in the pre-start.
With Luna Rossa looking much more polished after today following a jittery start to the semifinals, they sailed to a two minute, 11 second win to book their place in the finals against Team New Zealand.
But it was once again Artemis that drew the biggest cheers from the hoards of spectators crammed onto the edge of Pier 27, with the crowd acknowledging the marathon effort it took from the team to get back on the water following the setbacks and tragedy they endured.
After the race Artemis skipper Iain Percy paid an emotional tribute to his fallen crewman and best mate Andrew Simpson, who died in that horrific accident back in May.
"I'm hugely proud of what we've achieved, it's been a terrible few months for us," said Percy.
"First and foremost at this moment my thoughts and the team's thoughts are with Andy and his family. Getting to this point was something we never thought we'd be able to do two months ago when we lost him."
Luna Rossa helmsman Chris Draper also paid tribute to the work Artemis have done to get out on the race course.
"Those guys have done an amazing job - we have so much respect for all of those guys. These boats are scary every time you set foot on them and we are really proud of what those guys have done."