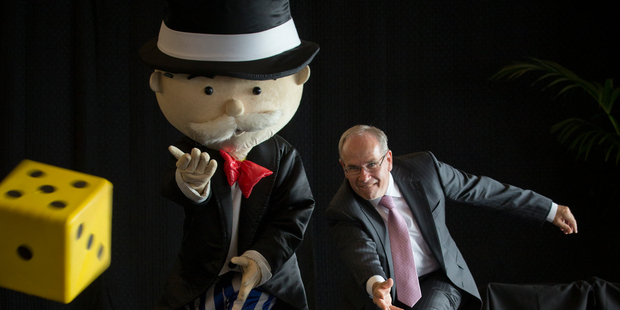 Fancy playing Monopoly through Ponsonby Rd, Queen St or Dominion Rd? An Auckland edition of the game will be released in October, it was announced yesterday.
Members of the public are now being given the chance to nominate what city landmarks and streets - from North, West, central and South Auckland - will feature on the board.
Game manufacturer Winning Moves made the announcement at the Viaduct yesterday, alongside Mayor Len Brown.
Winning Moves commercial director Reid Herbert said the Auckland Monopoly would help promote the city and boost tourism.
"For too long, we believe, Auckland has been living in London's shadows. We thought it was about time that this beautiful harbour city of yours had its own version of the iconic family board game," he said.
Mr Herbert said special aspects of the city would be included in Chance and Community Chest cards.
"Be prepared for some great surprises in store for the board - not just what we'd expect to see, like the Viaduct ... but other things that Aucklanders love as well, like the All Blacks and One Tree Hill."
Asked what he might like to see, Mr Brown suggested Great South Rd, Ponsonby Rd, The Strand, Sky Tower, Takapuna Beach, the Art Gallery and the harbour bridge.
"We could do Wynyard Quarter ... Queen St would also be very popular and maybe Broadway ... but Dominion Rd is my top pick," he said.
"You can do the Otara flea markets. I could certainly see that ... that would be very cool."
Feedback on the Herald Facebook page called for a mixture of landmarks and streets to feature.
Favourites included Rainbow's End or Te Irirangi Drive, Britomart, Albany Highway and Devonport.
Monopoly, first sold in shops in 1935, is the most-played board game in the world. It is available in 111 countries and made in at least 43 languages.
From the NZ Herald Facebook page:
* Tracey Parish: "I wonder what they will do with the 'free parking' square, because you don't find much of that in Auckland."
* James Perry: "I guarantee very little from South or West Auckland will get a look in."
* Aaron Russ: "Be interesting to see the price of a house. If it's anything like real Auckland, they will be so over-priced and unaffordable playing the game would be pointless."
* Montana Rose: "I suppose they'll put places like Otara or GI (Glen Innes) as the first properties on the board - hope not."
* Read a wrap of Twitter ideas for NZ Monopoly in Sideswipe here.