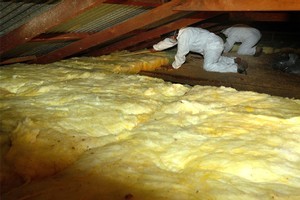 Demand for an Auckland Council loan to insulate and heat homes has swallowed $5 million in less than a year - leaving the council faced with either putting in more money or turning people away in the winter rush.
The regional Retrofit Your Home scheme's offering of up to $5000 since July has drawn 2186 applications and 1732 installations of a combination of insulation and heat pumps.
Permission to allow a further $3 million in help will be sought today from the council's strategy and finance committee.
A briefing paper to councillors said inquiries for help ranging from $400 to $5000 had risen sharply since April and an extra $3 million facility would be needed to clear applications to June 30.
Deputy Mayor Penny Hulse said the high demand for the offer would not mean higher council rates, because people repaid the council through their rates bills over nine years.
"I would be stunned if councillors do not support this," she said.
The offer served as a "top up" for the Government's Warm Up New Zealand: Heat Smart scheme, which gives 33 per cent discount off floor and ceiling insulation, up to $1300, for homes built before 2000.
Auckland Council offered people the chance to pay off the balance through a targeted rate at 7 per cent interest.
"I think the ability to borrow through the rates is what makes getting insulation do-able for some people."
But councillor Cameron Brewer who, with George Wood, voted against the financial assistance facility last year, said the scheme only added administrative and staffing costs to the council, which fell on the rest of the ratepayers.
"We are only duplicating a very good Government scheme."
That $347 million scheme is in its third year and has led to the retrofitting of 161,854 homes, says the Energy Efficiency & Conservation Authority.
WARMING UP
* $5 million borrowed since July by 1732 households.
* $3 million more needed to meet demand.
* $400 to $5000 borrowed.
* $2508 average household loan.
* $1300 maximum Govt grant.