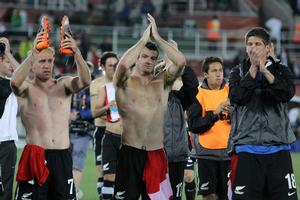 As the dust settles on the All Whites' remarkable campaign, Chris Rattue rates the team out of 10
10 - RYAN NELSEN
Absolutely faultless, including when very ill against Paraguay. His mate Simon Elliott often jokes about how the press waxes lyrical on Nelsen - but what else can one do? I couldn't spot a better defender at the World Cup, and no team had a more important player. Without his skill and presence, none of this would have occurred. If he does retire, or reduce his All Whites role, at least Reid and co. have learnt from the master. Nelsen is incredibly committed - he even looks in pain during the national anthem.
9 - RICKI HERBERT
A near perfect effort from the boss. Found his best XI and a way to play. To have orchestrated the whole deal, from Manama to Polokwane was remarkable. Herbert also placed high quality people in the backroom, ones that reflected the high degree of analysis in world soccer today.
My only bugbear concerned the final game against Paraguay, where - with a goal imperative - the All Whites failed to find any spark or new way to attack. In truth, they went out with a tired whimper, but that should not detract from a fabulous overall performance. Herbert is a sitter for coach of the year, and a national gong.
9 - MARK PASTON

What a tournament. The lanky goalkeeper was unbelievable against Italy with a series of stunning saves. He almost went for an embarrassing skate against Slovakia though. Some of his punching was unconventional, but this has become a hard area to judge because of the ball. Paston had a rough time when he tried to make it in Europe but it would be no surprise if he got a serious offer from abroad, even at the age of 33. He was as good as any goalkeeper in the World Cup for my money. He has been central to the success, starting with great saves against Bahrain.
9 - SIMON ELLIOTT
In some ways, Elliott was the star performer. Insiders claimed his place was initially in doubt, but from the moment he unlocked Australia in Melbourne, Elliott was a certainty. He was masterful at times, the major skill factor in a team short in this department. The 36-year-old puts his form down to re-built Achilles tendons, which he claimed are now like those of an 18-year-old. Some of us thought he was joking but he made the claim so often Elliott clearly means it. According to the stats, he ran more than any All White.
8 - WINSTON REID
Gets a high mark for THAT goal, the last gasp header against Slovakia, which gave New Zealand its first World Cup point and got the whole show rolling. He also created the other goal, against Italy. A big, athletic unit, Reid handled the good attackers he faced very well. Part of the Fearless Foursome, including Paston, who kept Italy at bay. Shows wonderful signs of being able to bring the ball forward and knowing when to do so, can hit a great long ball, and has a ferocious shot.
8 - TOMMY SMITH
A very promising new defensive unit with Reid although Smith doesn't quite have the booming presence. They won the highest praise from Herbert. It would have be nice to see more of Smith going forward, but the All Whites tend to attack on the right side where Leo Bertos offers far more than Tony Lochhead. Their defensive record speaks for itself - conceding two goals in three matches is a miracle of loaves and fishes proportions. Future captain.
8 - SHANE SMELTZ
Maybe marking him a little high here, but we all have our favourites. Smeltz was the best of our front men. Has class and skill and the speed to make something out of nothing. Scored a fabulous goal against Italy, stealing in behind the defence. When you remember that great two-touch goal against Serbia during the build-up, you realise New Zealand has a class act in Smeltz. Scouts must have taken notice. I would love to see the Gold Coast striker given a chance in a team that plays at a higher level than the A-league
7 - LEO BERTOS
A very good tournament in many ways and Bertos, a natural attacker, did his job in defence. The big problem is that Bertos didn't get enough crosses in, and this presumably was a big part of the plan. Wing back is a very difficult position, demanding great speed and stamina which Bertos has. But in fairness to him, and in order to see what he is really capable of, it would be nice to think he may get a chance at this level without the defensive workload.
7 - IVAN VICELICH
Competent and crafty. A good foil for Elliott, although nothing spectacular. Herbert claimed Vicelich was always a midfield prospect, but in truth the regular left sided defender was thrown in at the last minute - in the friendly against Chile at Nelspruit - because the coaches must have got the jitters over Jeremy Christie. Vicelich certainly didn't let the side down as the defensive record shows.
7 - RORY FALLON
The leaping giant was central to the All Whites' aerial plans and pure gold for the media. He is never afraid to share his thoughts, which are not overly subtle. A bit like his game. Fallon won undue heat from referees, but he also needs to moderate his flapping winged approach to jumping. The fact is, he also failed to come up with a goal so gets marked down. He also went missing against Paraguay, although the service was minimal. Fallon will be well remembered when we talk about this wonderful team.
5 - TONY LOCHHEAD
A mystery man of sorts. Came up with a few bloopers but also some better moments. The word on Lochhead is that he runs all day, but he also looks out of place making bizarre errors and being tentative on the ball. It will be interesting to see where he fits in future plans but the All Whites must look for classier options on the left hand side.
5 - CHRIS KILLEN
An absolute enigma to my mind. We all like certain players and don't get others - Killen has a big reputation but he didn't live up to it. He can knock defenders around but just hasn't been nailing the chances.
SUBSTITUTES
5 - CHRIS WOOD
A regular sub, but not a super one. What this bloke needs is a goal. Big things were predicted for Wood in South Africa but he just didn't kick on from the promise against Bahrain. Has bags of time yet to show he can bag goals.
JEREMY CHRISTIE, ANDY BARRON AND JEREMY BROCKIE ...
All get to say they played a few minutes at the World Cup.