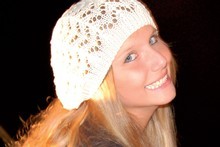 Justice Minister Judith Collins has written to the family of murdered teenager Christie Marceau, encouraging them to make a submission on her bill to tighten bail laws.
Christie, who would have turned 19 next Monday, died in her mother Tracey's arms at their North Shore home in November after she was attacked.
Akshay Chand, then 18, was arrested at the scene and later charged with murder.
He was on bail at the time of Christie's death, and facing a charge of kidnapping her in September.
Mrs Marceau and her husband, Brian, teamed up with the Sensible Sentencing Trust to launch Christie's Law - a campaign aimed at tightening bail laws.
As part of the campaign, they wrote to a number of MPs asking for their support. Ms Collins wrote to the couple in December outlining the National Government's proposed changes.
Plans include tightening the circumstances in which people accused of serious sexual or violent crimes can be granted bail.
Brian and Tracey Marceau are now living in Adelaide, and were excited when their oldest daughter, Heather, called to say a second letter had arrived late last month urging them to have their say on the law.
Ms Collins said a Bail Amendment Bill would be introduced into Parliament by the middle of this year, to give effect to law changes earlier proposed by the Government.
After its first reading, the bill will go to a select committee for consideration, and then the public will have the opportunity to comment.
"Given the concerns you set out in your letter, I encourage you to make a submission on the bill at the select committee stage," Ms Collins wrote.
Mrs Marceau said the letter gave her hope "that the effort that's been put in by everyone on the campaign has been regarded, and taken seriously. That actually, someone will listen."
But the letter did little to dull the pain they were feeling in the buildup to Monday - Christie's birthday.
"It's going to be pretty hard ... to be honest; I'm dreading it," Mrs Marceau told the Herald yesterday.
The couple will spend Monday quietly remembering their daughter. Mrs Marceau also plans to buy a new charm for Christie's Pandora bracelet.
The teenager was collecting charms and when she died, Mrs Marceau vowed to add to the bracelet every Christmas and birthday until it was full.
For her 19th, Christie will have a turquoise charm - her favourite colour and the official colour of the campaign.
Chand is due to appear in the High Court at Auckland next Wednesday.
CAMPAIGN DONATIONS:
Christie's Law Trust at Westpac, account number 03-0275-0644809-00 or phone 0900-723-369.
By Anna Leask @AnnaLeask

Email

Anna