Pippa Middleton beamed with pride as she left the church as a married woman on the arm of her new husband James Matthews on Saturday.
It was the moment the world had been waiting for and Pippa Middleton didn't disappoint as she dressed to impress in a stunning white Giles Deacon gown for her nuptials to the 41-year-old financier she began dating last year.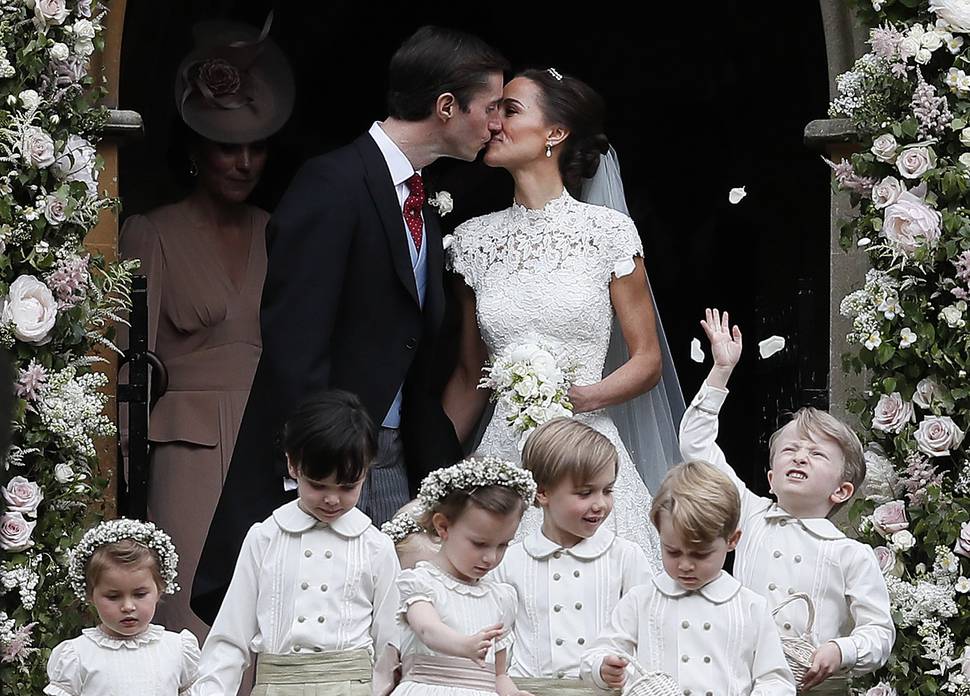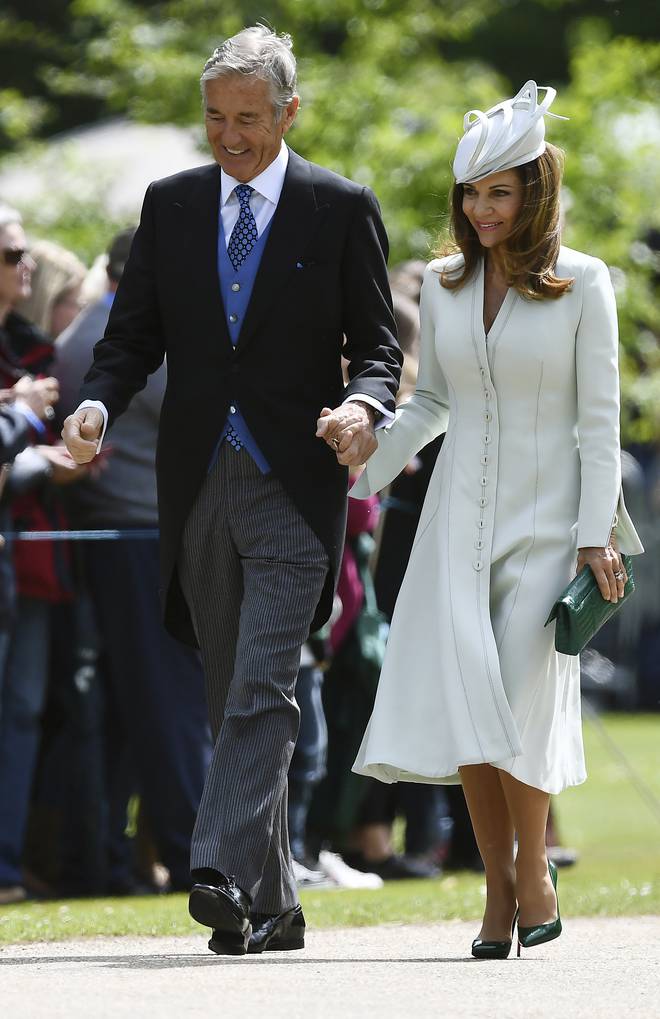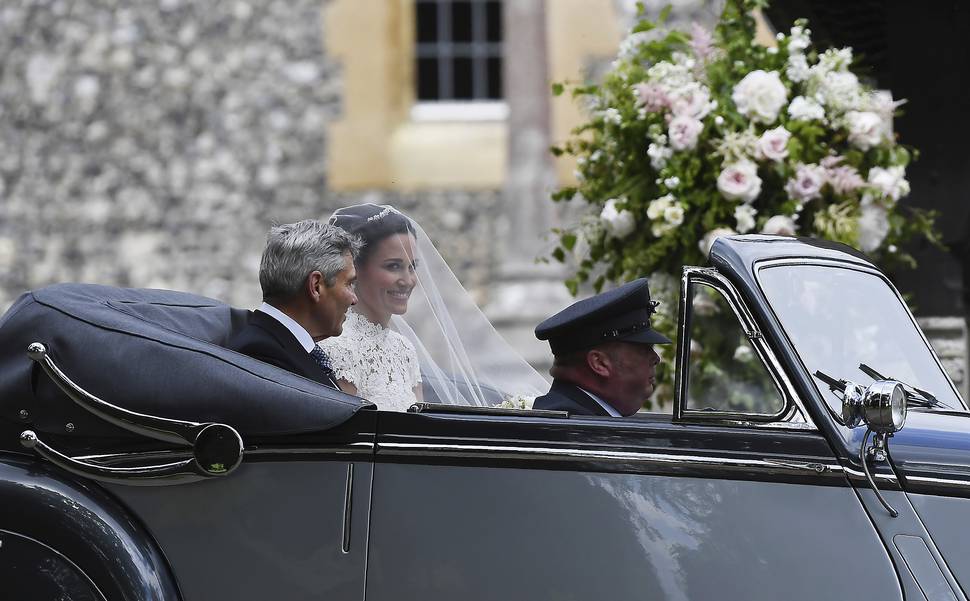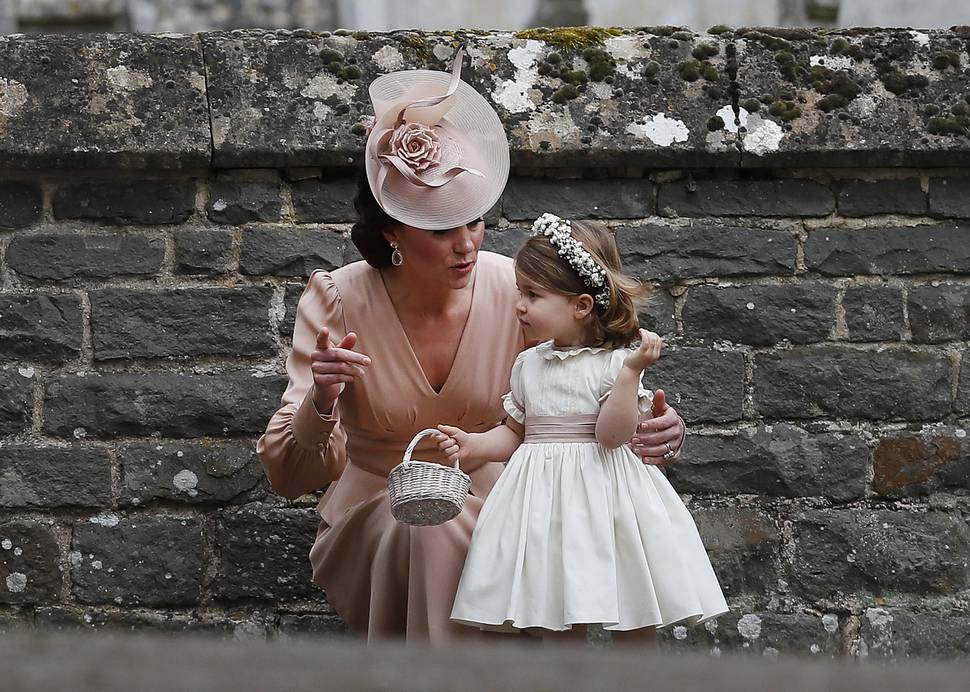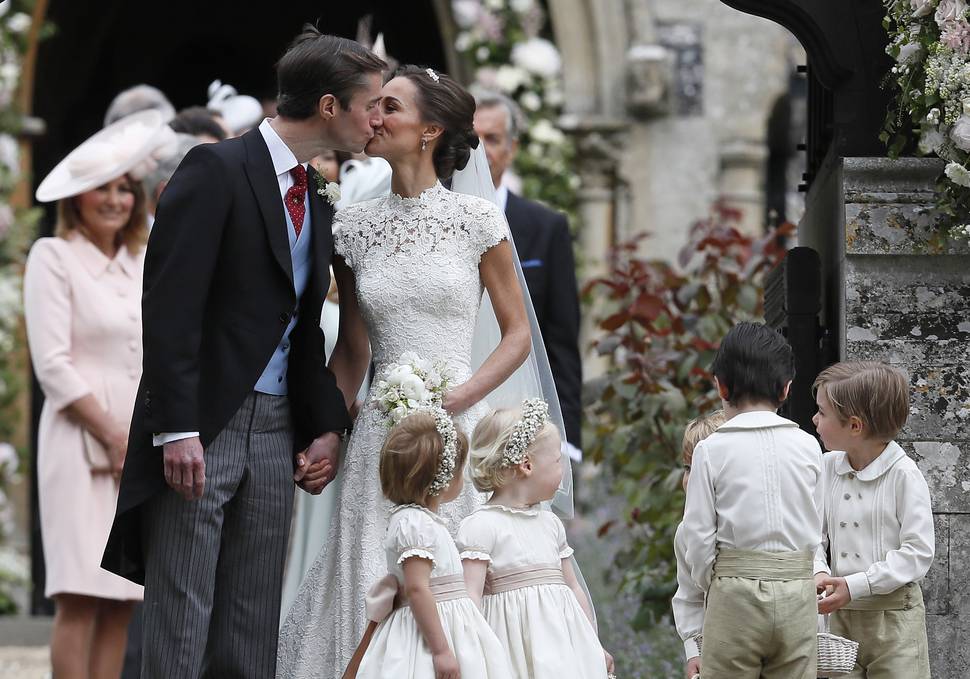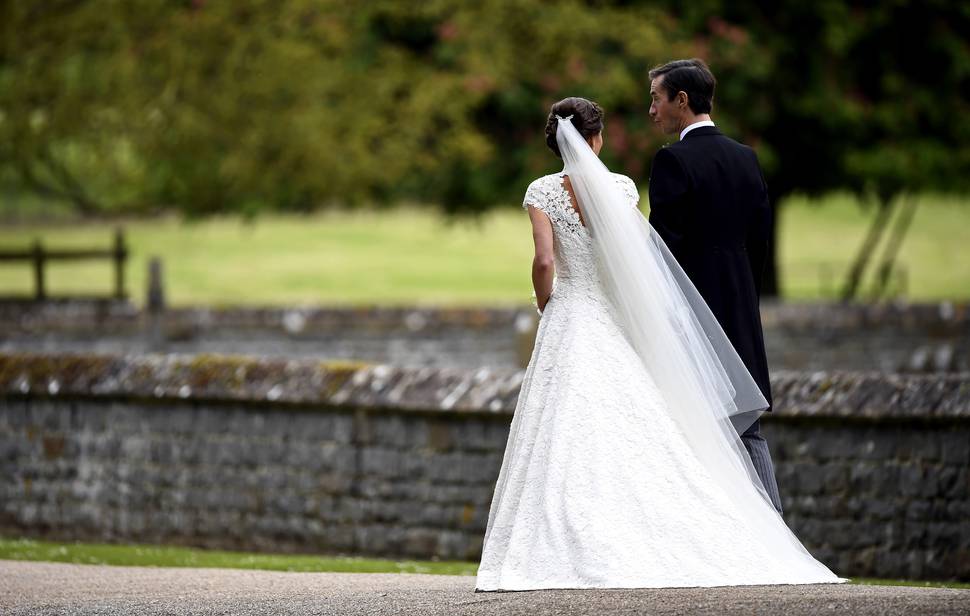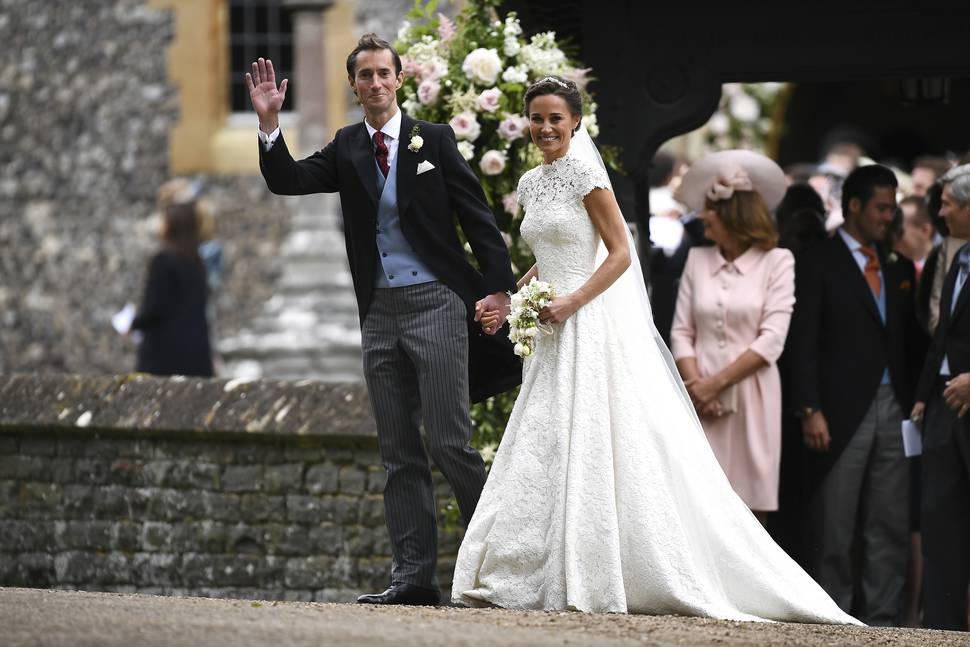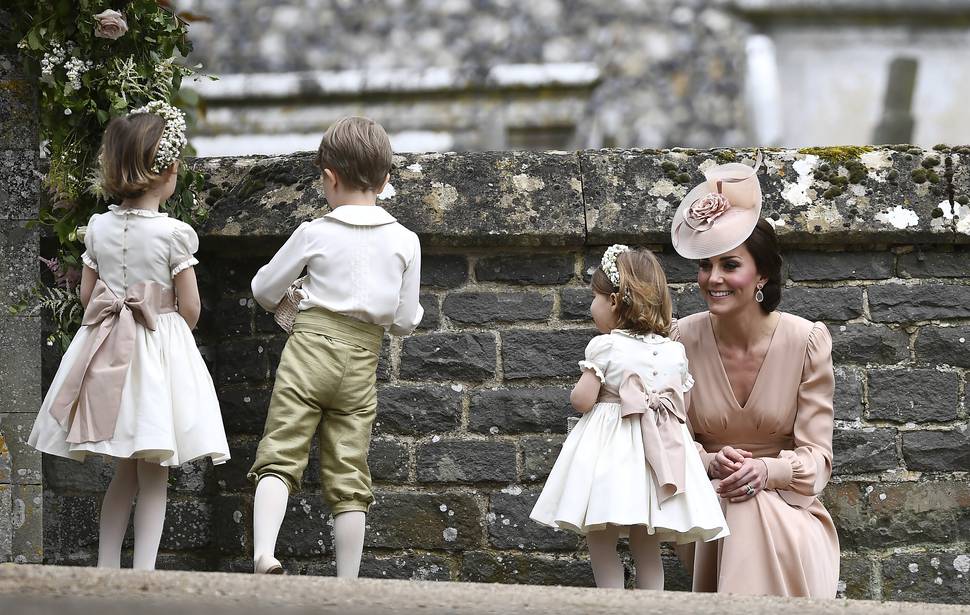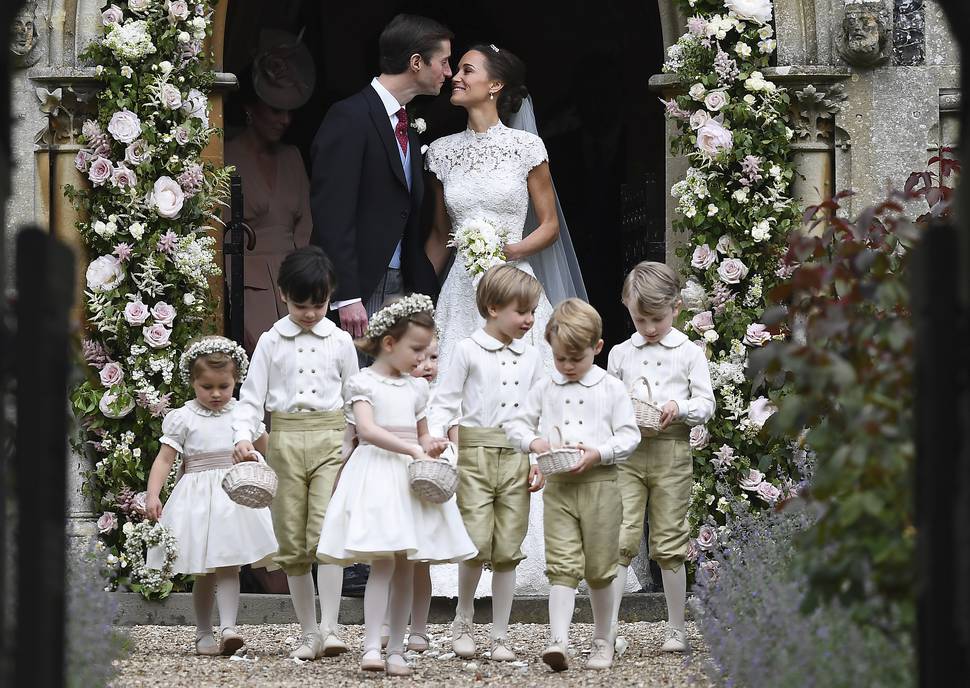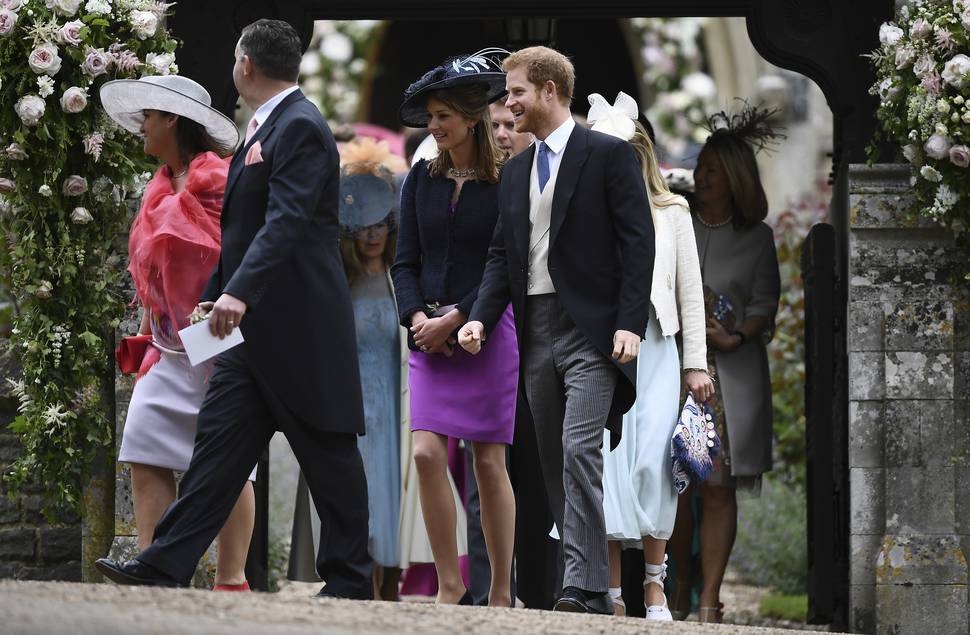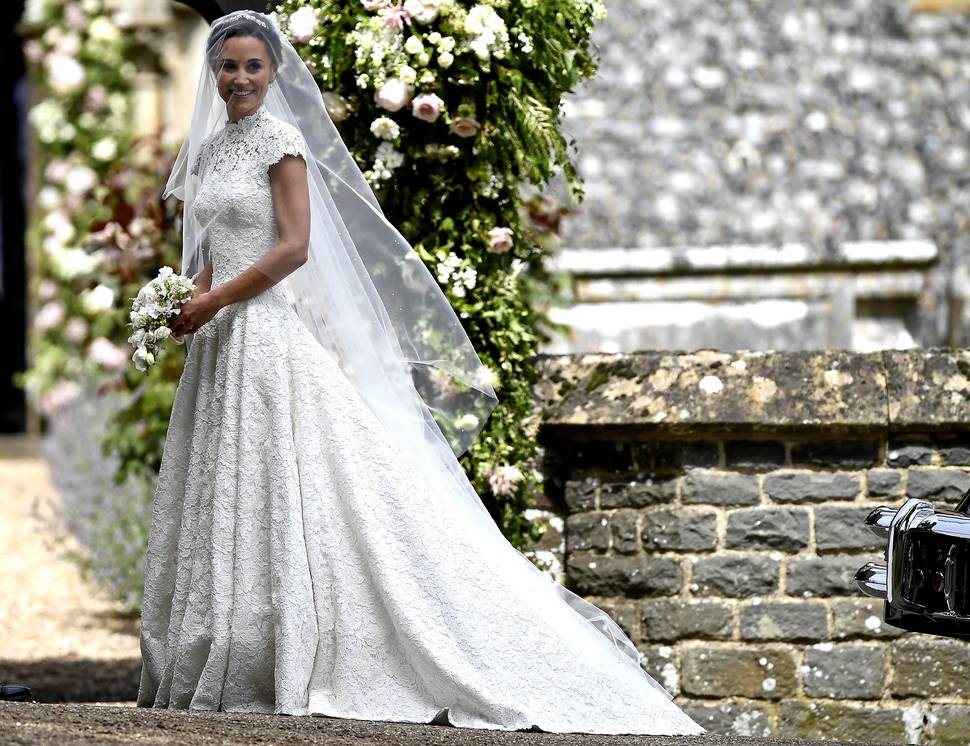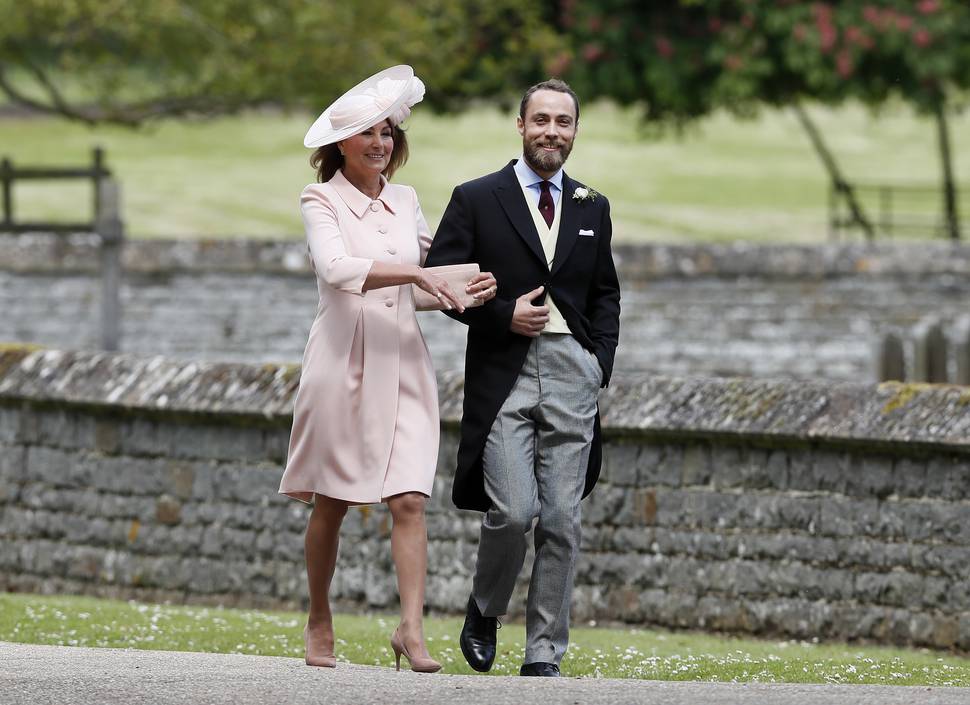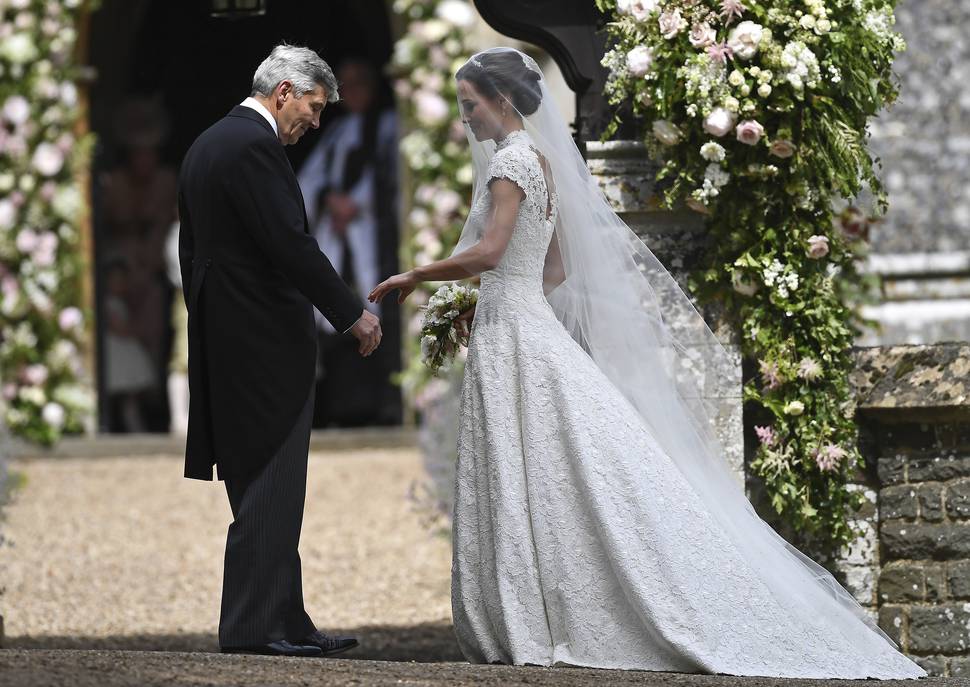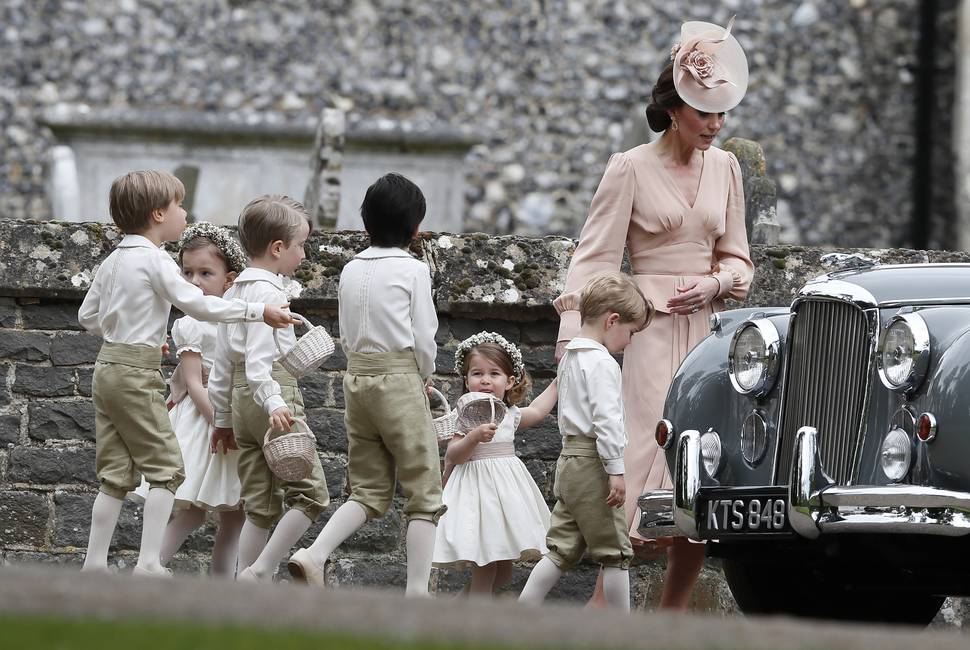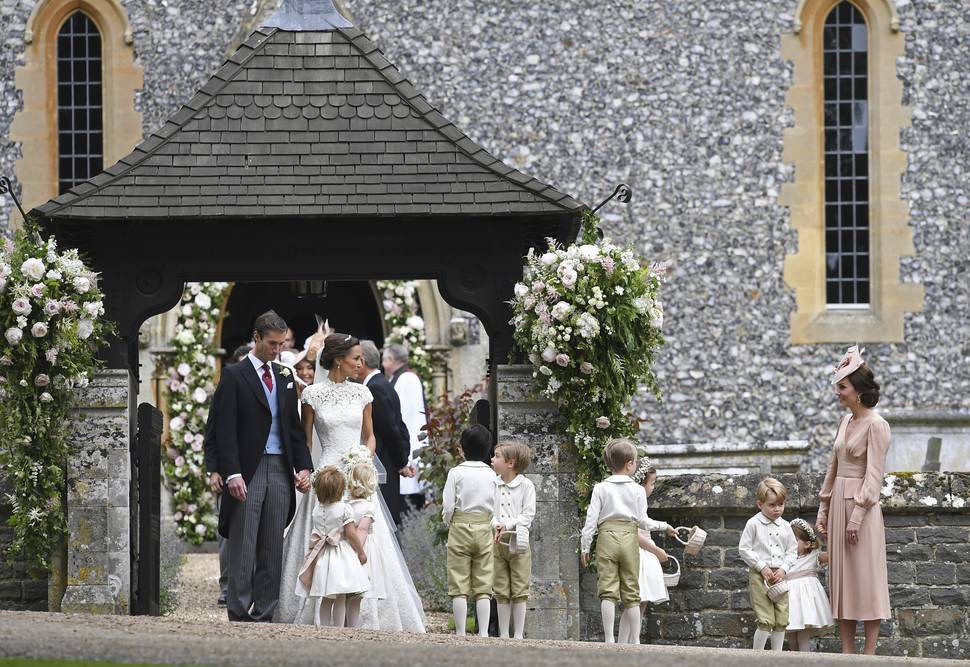 The 33-year-old beamed with happiness as she displayed her famous figure in the fitted guipure lace gown by the British couturier, whose fans include Abbey Clancy and Kendall Jenner, the Daily Mail reports.
After saying their vows surrounded by their friends and family, the happy couple waved to the crowds as they drove in a Jaguar E-Type from the Englefield estate to the Middleton mansion for the evening reception in the 'portapalace' they've constructed in their garden.
Pippa, in a beautiful classic wedding dress with lace detail, was sporting a shiny new ring on her left hand as her husband manoeuvred the car through the crowded town centre.
The long, glamorous veil had been discarded, and the happy couple were squinting into the sharp spring sun.
One notable absentee was Prince Harry's girlfriend, Meghan Markle, who is thought to be joining the contingent for the reception back at the Middleton mansion this evening.
Rumours have been circulating for some weeks the Suits actress had been invited to the nuptials despite Pippa's "no ring, no bring" policy. However, some believe Meghan may have chosen to stay away from the church ceremony to avoid upstaging Pippa and bringing more attention to her relationship with Harry.
To have her on his arm earlier today at such a high-profile event would once again have re-fuelled suggestions the pair could be set to marry.
Shortly after Pippa and James left, Kate came by in a grey Range Rover, this time with a personal driver behind the wheel.
Villagers soon began to speculate whether her husband William and little George and Charlotte were hiding behind the car's tinted back windows.
The wedding guests were all leaving the reception at Englefield Town Hall to commence the party at Carol and Michael's home on Pease Hill.
The party is expected to carry on all evening with an estimated 350 high-profile guests.
This morning, flanked by her father, Michael Middleton, Pippa beamed with joy as she arrived at the church in a Jaguar Mark V ahead of her vows. Her attentive big sister Kate, who was resplendent in a peach Alexander McQueen dress, Jane Taylor hat and £7,500 Kiki McDonough earrings, was on hand to help arrange her dress as she walked into the church to say her vows.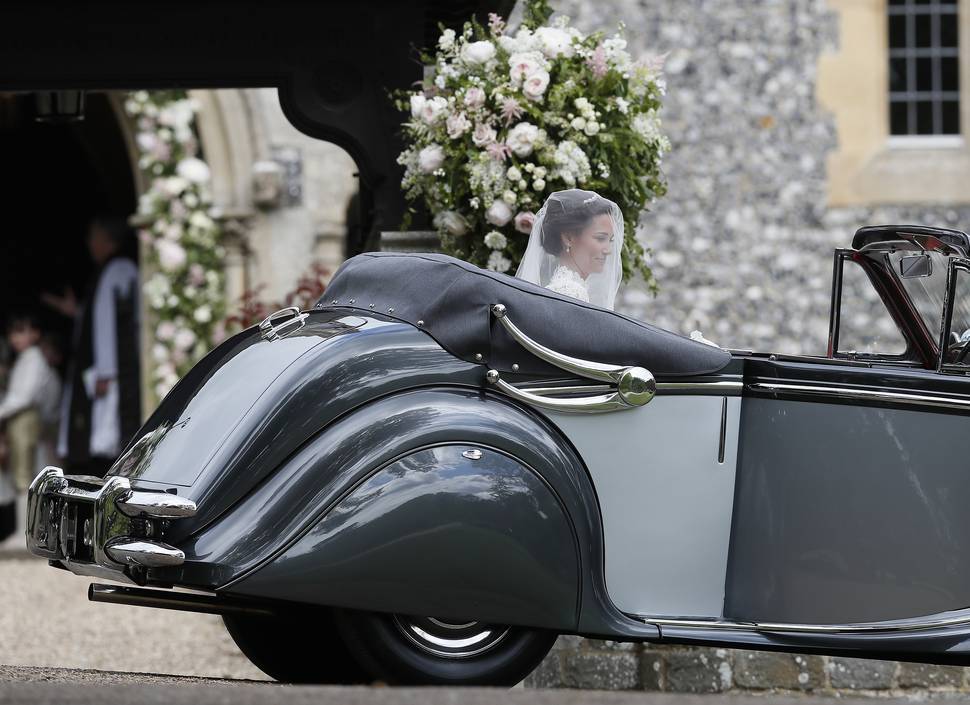 It may have been their aunt's big day but Prince George and Princess Charlotte, dressed in Spanish retailer Pepa and Co, managed to steal the limelight from Pippa as they served as page boy and bridesmaid at the society wedding of the year.
Dressed in adorable ensembles, three-year-old George and two-year-old Charlotte stole the hearts of the nation as they put on a charming display at St Mark's Church in Berkshire.
Only a small group of villagers got a glimpse of the royals as the bride arrived in a 1951 Jaguar, Pippa looking stunning in a flowing white dress with a heart-shaped, open back.
The bridal bouquet was by Lavender Green and was a stunning collection of peony, sweet pea, astilbe, freesia, waxflower, green bell and mollis.
Speaking to MailOnline about working for Pippa and the inspiration she took when creating the bridesmaid's flowers, Sue Barnes, Founder of Lavender Green Flowers, said: "I designed hearts covered with white Waxflower and Gypsophilia, that hung from satin ribbon. We matched these with flowers on the girls' Alice bands. It is the little details, like the gorgeous bridesmaid's hearts, that make weddings totally individual, and our job that much more enjoyable!"
The Duchess of Cambridge emerged from a second car wearing a light pink dress and matching hat, and entered the church with the little ones - Prince George in a white shirt and light brown trousers and Princess Charlotte in a white dress.
Mother of the bride Carol Middleton walked with her son James Middleton to the wedding, wearing a buttoned-up pink coat and a matching hat.
The front archway of the church was decorated with two large bouquets of pink peonies and roses and white flowers.
Guests were greeted by best man Spencer Matthews and ushers, who were wearing morning suits with dusty pink ties, at the archway entrance.
The groom, James Matthews, also greeted guests at the entrance to the church. He appeared relaxed, at one stage sharing a joke with his brother.
Among the first celebrity guests to arrive were ITV news anchor Tom Bradby and his jewellery designer wife Claudia.
They were followed by former Byker Grove star Donna Air, James Middleton's girlfriend, who was weighting a long flowing pale yellow dress and matching pillbox hat.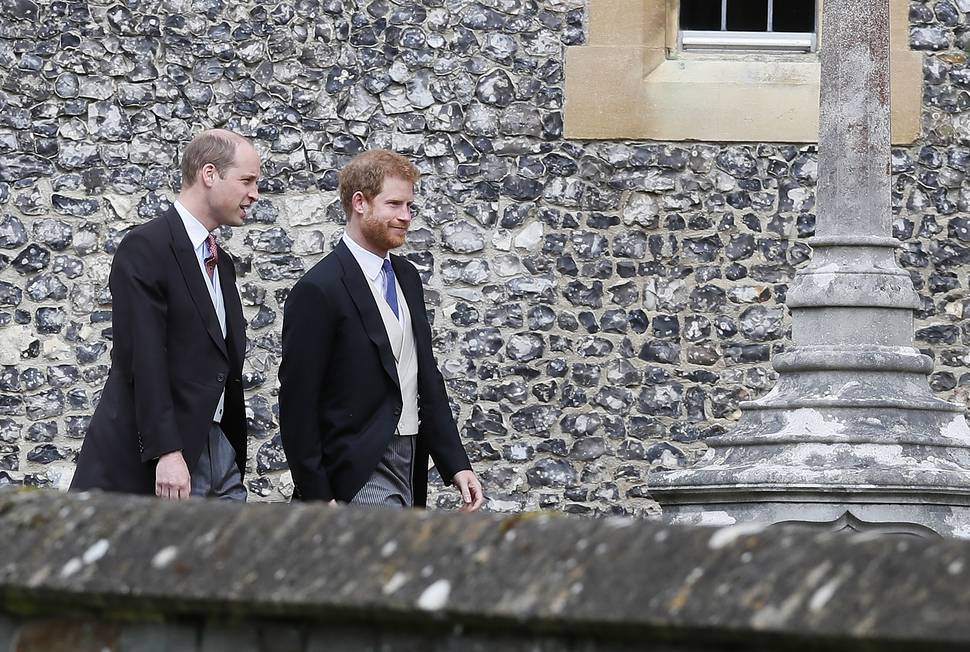 Tennis star Roger Federer was cheered as he walked up the path to the church his wife Mirka, wearing a gold sparking dress.
The newlyweds were briefly seen exiting the church to chiming wedding bells, and were driven off to the local village hall for the wedding reception.
Local mother Jleana Sedita said it had been a lovely exit, but was quite dismayed that the Royal family arrived so far away from the eager crowd.
"I can accept that I was not invited, but I wanted to see her at least," she said, laughing.
"They've spent so much money, and we went to see what exactly it was spent on.
"They don't really need an expensive marquee, there are so many beautiful churches and houses around."
Pippa's uncle Gary Goldsmith waved to the assembled press as he arrived with his daughter. Princess Eugenie, wearing a navy blue dress and cream pillbox hat, also waved to the cameras as she was accompanied by her long-term boyfriend Jack Brooksbank.
Gabriella Windsor, the daughter of Prince and Princess Michael of Kent, was also among the 200-strong congregation.
Mother of the bride Carole arrived with her son James, wearing a peach Catherine Walker outfit.
The Cambridges' nanny Maria Borrallo was then spotted entering the church in her distinctive brown Norland uniform.
Appearing very much Mummy for the day, Kate ushered the children in to the right position. The girls' dresses were cream and the boys tops were cream while their breeches were a gold colour. She was weaning a dusty Alexander McQueen bell sleeve wool crepe pencil dress, priced $959.
They were shortly followed by Pippa and her father Michael in an open top gun metal grey 1951 Jaguar Mk V.
They spent some time rearranging Pippa's dress by the archway entrance - both Michael and an attendant - presumably one of Deacon's.
Kate then greeted her sister and father in the entrance of the church and helped to smooth out Pippa's dress while arranging the page boys and bridesmaids to walk behind them in unison.
Kate very much appeared to be attendant in chief and was laughing and giggling with Pippa. Within minutes of them going in, it started raining.
There was embarrassment when a couple of late comers arrived after Pippa had gone into the church. Bodyguards were scrambled to usher them in a side entrance.
The bride and groom emerged at 12.39, just as the sun started shining again, having rained during the 40-minute ceremony.
The pageboys and bridesmaids were assembled at the entrance and then walked out in front of the happy couple, with Kate helping to usher them into position.
Pippa's bridesmaids were Countess Philippa Hoyos, Lily French, Avia Horner and Princess Charlotte. The pageboys were Casimir Tatos, Edward Sebire, William Ward and Prince George.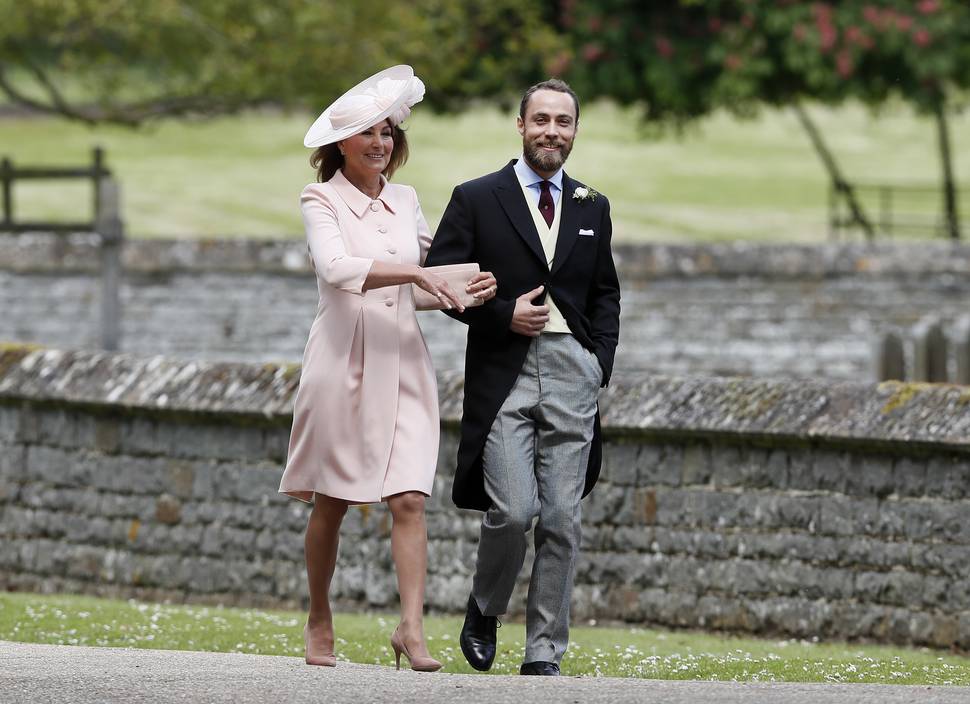 There was a lot of smiling and some laughing as the children tottered out in front. The couple took their time to walk towards the archway entrance, clearly quite entertained by the children in front of them.
Charlotte was carrying a basket which appeared to have confetti petals in it. A guest was later spotted telling the crowds she was carrying Charlotte's heart shaped floral garland, which she had left behind.
James Matthews was seen beaming ahead of the service - and considering he was about to tie the knot with the woman he chased for 10 years, it was hardly surprising he couldn't hide his smile as he arrived at St Mark's church moments before his bride today.
The 41-year-old hedge fund manager was in high spirits as he arrived flanked by ushers James Middleton and Spencer Matthews ahead of the society wedding of the year.
The dapper men shared a few laughs as they waited nervously outside the church whilst hundreds of guests - including James Middleton's girlfriend Donna Air and Roger Federer - and wellwishers descended on the church.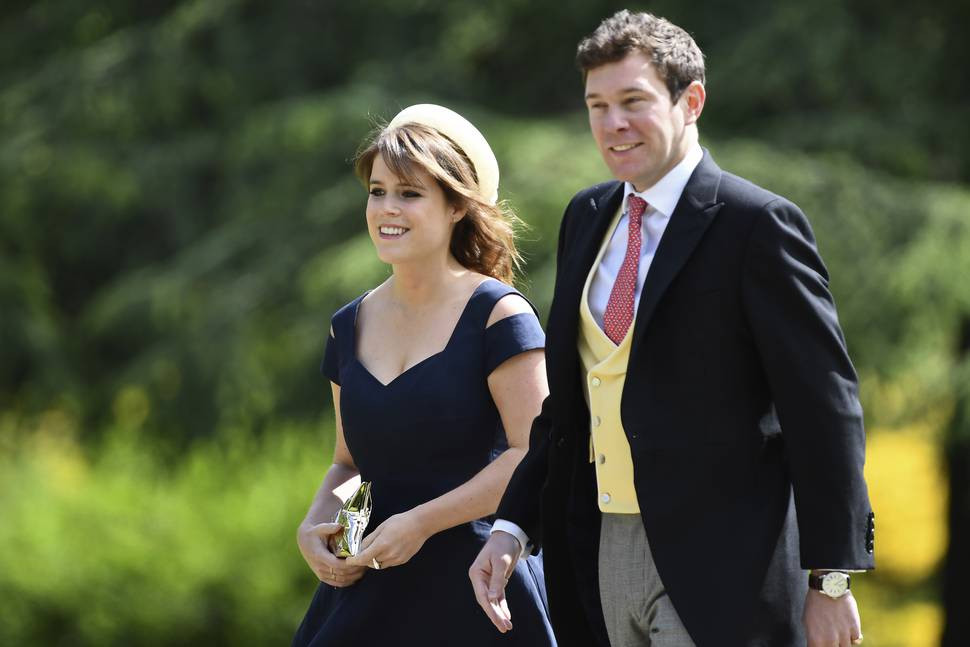 Princes William and Harry put on a dapper display as they arrived together at the church without their partners, the Duchess of Cambridge and Meghan Markle.
The Duke and Duchess of Cambridge cut it fine as they set off from Kensington Palace with just a few hours to spare ahead of Pippa Middleton's wedding today.
The couple, who were dressed to impress in their wedding outfits, were seen driving through London as they made the 50 mile journey to St Mark's Church in Berkshire.
Prince William, who looked dapper in a satin waistcoat and red tie, drove his family-of-four in their Range Rover to the society wedding of the decade.
Kate, meanwhile, gave a hint of her outfit and donned a peach fascinator - a colour she often plumps for when dressing for formal events.
Kate's parents and siblings spent the night in their hometown of Bucklebury as they prepared for the society wedding of the year, but the Duchess of Cambridge was spotted driving through London on Friday afternoon.
It is thought that Kate attended the rehearsals for sister Pippa's wedding at St Mark's Church before driving her Range Rover back to Kensington Palace.
Kate's children, Prince George and Princess Charlotte, are acting as page boy and flower girl at the nuptials, so the mother-of-two most likely had plenty to organise back in the city.
Also spotted making last minute preparations for the wedding was Meghan Markle, Prince Harry's girlfriend, who was seen outside a Soho spa after flying into London to join her royal beau at St Mark's tomorrow.
Casually dressed in leggings, a hoodie, a baseball cap and shades - albeit with the addition of an expensive Mulberry handbag - the Suits star lingered outside the venue as she waited for a driver, likely to whisk her back to Harry's Kensington Palace apartment.
Details of today's wedding service, reception and celebrations have been kept under wraps by organisers but there has been speculation that the day is setting Pippa's parents, Carole and Michael Middleton, back hundreds of thousands of pounds.
An expensive glass marquee has been hired for the evening event, as have vintage cars and modern prestige vehicles - and posh portable toilets.
Reports suggest it will be a lavish affair, with a nod to the groom's Scottish connections included in his outfit, entertainment and the food, with haggis on the menu along with Scottish lamb and whisky, while there will also be a piper and a Spitfire flypast.